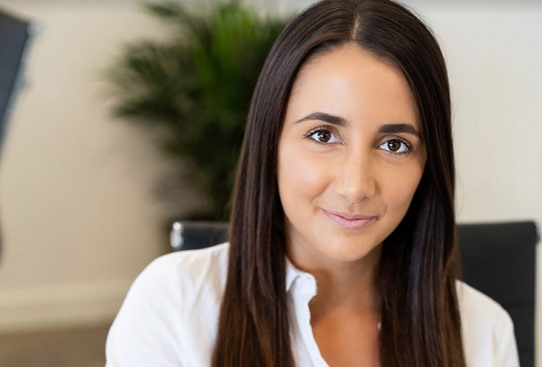 When 28-year-old entrepreneur, Olivia Jenkins, decided to pursue her addiction for eCommerce and business strategy, rather than shrugging it off as pie in the sky concept and whimsical part-time business romance, Olivia embraced the challenge with vigour and tenacity. Less than 18 months later, Olivia has single-handedly transformed her consultancy business into a full-blown business love affair, becoming the ultimate secret weapon for CEOs and achieving extraordinary growth and profit for clients around Australia.
As a highly successful General Manager and eCommerce marketing expert for premium health and beauty brands from the age of 18, Olivia has continued to fine tune her laser sharp focus, founding her consulting agency in late 2019. Olivia came out with guns blazing, working vigorously and relentlessly alongside CEOs in beauty, fashion, health and lifestyle, so far nurturing more than 37 brands for business. Olivia's holistic approach and exceptional experience has had a significant impact to shifting SME's business stance from sick and survival mode, to off-the-charts, thriving.
According to Olivia, far more than just delivering marketing, she is instrumental in delivering a business's overall growth by nurturing and consolidating each area of the business.
"This involves having a thorough and considered approach in the way in which sales and marketing affects the backend of a business, providing client guidance, and teaching them which processes will add value to them and which will not. Every business owner I have worked with has been empowered with additional skills and amplified confidence to grow their business."
Olivia guides and supports clients showing how important it is to not put eggs all in one basket, by tapping into the power of segmentation and being a stickler for details. She also reinforces the importance of building relationships as the foundation of success, so customers feel they are understood and imperative to the brand.
"I am also very data oriented and teach clients to ask questions rather than focus on opinions, and testing the data again and again, to deliver outstanding results."
It's no secret that Olivia Jenkins was made for business from an extremely young age.
"Some people are just 'born with it' and I truly believe I am one of those people. I was never particularly drawn to sport or music, but I was always very good with business - it came naturally to me.
"As a young woman in my late teens, many of my friends at similar ages were out clubbing or travelling Europe. I was ensconced in my mum's business, working 50-to-60-hour weeks, travelling overseas to build rapport with international distributors and finding ways to expand my knowledge on business.
"I think I sacrificed a lot in order to reach the stage that I have and I will never give up on developing my skill sets. Growth is one of my core values and I live and breathe that value every day. I was also studying my masters through two pregnancies that were 12 months apart, going to exams while still breastfeeding and waking up at 4am to study before work just so I could graduate."
The term business coaches is thrown around in industry a lot, but Olivia is not phased.
There are plenty of coaches, consultants and courses that offer good advice but many fail to offer tailored advice to each client. It's a cookie cutter approach and all businesses were not made equal. A lot of consultants talk the talk, but I am proud to say that I walk the walk, and more often than not, I am running with my client towards unprecedented success!
"I've seen so many coaches and consultants offer advice to businesses that would suit established businesses but would never serve a start-up business because they don't have a large enough audience yet. They also may not have a geographical reach to ship to international customers, yet they've been told to invest in international marketing activities," Olivia says.
"I feel my clients love that I offer an end-to-end service covering everything they need from advisory, to promotional planning, crisis management, marketing, website development and email marketing. They can be rest assured that I will treat their business as if it were my own and offer advice in any areas that I feel need improvement.
"I always say to clients, it's a "do-with" process not a "do-to" process. I want my clients to elevate with me and grow within themselves as leaders and CEO's along the way.
"I'm also highly responsive meaning I am on-call for all client campaigns and launches regardless of day or night, weekday or weekend. An example of this was Black Friday last year - I was in labour activating campaigns for clients and straight back on my laptop after giving birth!
"Yes, some people may think that's extreme, but for me, I refuse to let my clients down and they respect and appreciate that about me. I also love being that person they can truly rely on. That personalised approach where I earn the trust of my client is everything – it is a win-win for all."
Stacey Hollands, CEO and Founder, Lust Minerals joined forces with Olivia when the business required much-needed scaling.
Within days we have a full business plan and structure we needed to work on and work towards. Valuable knowledge and experience around what we needed to implement into the business both back and front ends to scale to our goals.
Within 4 months we have managed to scale our business from three employees more than 10 employees and implement the right tools for growth which has resulted in 130 per cent growth in the last 90 days.
Elaine Yong, CEO and Founder, Melvory Skincare, reached out to Olivia as she felt the business was in a stagnant phase.
"We knew we had so much potential for growth but wasn't sure what exactly needs to be done. Olivia gave us the courage to rebrand and gave our entire range of products a brand-new stunning, professional look that truly reflects how amazing my products are.
"We went from $18k per month in January to now averaging $45 to $90k per month. We have grown so quickly, we now need to outsource a few things such as contract manufacturing."
Olivia says the sisterhood has been an important foundation in the way she approaches and succeeds in business.
"From the outset, I have always been inspired by the power of women, how women can build each other up and diversify in the business world. Female empowerment has always been a priority for me."

"Being a mum to three young children has not deterred my hunger for success. Infact, it is quite the opposite, where it has fuelled my desire to run my business simultaneously with motherhood."
Olivia's ethos is simple. "You can have the best of both worlds for sure and while it is impossible to be the perfect mum, the feeling of guilt should not overshadow you for your desire to work or start a business."
"My skills, honed at the coalface of corporate life, help women who are deeply creative and visionary, but lack an understanding of business growth and success strategies and now just after 16 months, I support more than 13 female-led businesses across South Australia and Australia."

Olivia has huge plans for 2021. "I am working on masterminds for CEOs with an online business school to reach women in busines across the country, especially those just starting out or with a limited budget to work with a business consultant one on one."
"Watch this space. At 28 years of age, I am just getting started!"

.
www.oliviajenkins.co