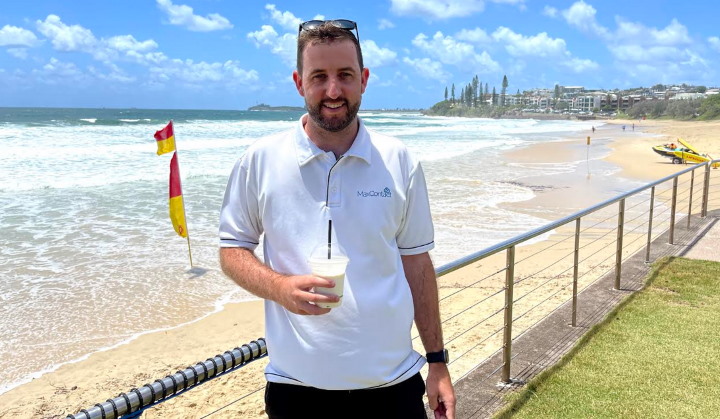 Built from the ground up by industry professionals, MaxContact has rapidly become one of the fastest growing next-generation contact centre specialists with a range of integrated solutions including intelligent routing, business analytics, inbound, outbound, configuration, IVR automation, quality call recording , speech analytics, scripting and workforce management. Headquartered in the UK, the company decided to base its Australian business on the Sunshine Coast. We sit down with Daniel Harding, Director of MaxContact's Australian operations, to shine a light on his company's culture and values.
Describe your company culture.
We're a small organisation with a flat management structure and that has a big influence on 'the vibe' here at MaxContact Australia. Over the years the company has grown from a small family business to a larger company with multi-national operations. Despite the growth we've always tried to keep the family feel present and have pushed that here in Australia as well.
We're tight knit, we don't stand on ceremony and we don't pull rank. Everyone's opinion counts and criticism is always welcomed, provided it's constructive. We work together collaboratively, we focus on results and I make sure employees are given the autonomy they need to achieve them.
Positivity is something we strive to maintain, particularly during times of increased challenge. Negative people are a real drain, especially in a small team. I don't think you can afford that when you're focused on building up a market presence from scratch, as we've managed to do over the past three years. Every hire matters and we're very focused on taking on people who are a good fit.
What is your stance on work life balance, flexible working, remote working?
We don't want our employees married to MaxContact. Work life balance is important for everyone and helps people do a better job, in the time that they're on the job. One of the nice things about a small team is knowing about people's families and outside interests – we're all human and need to show that side, even if we're working in the tech industry!
Working from home has always been an option for our employees, long before COVID came along and made it a thing. At our parent company in the UK, they have what's called 'snow days'. Every few months, everyone receives a last minute notification not to come to the office the next day. The idea is to test whether people would be able to carry on as normal if something happened – they were snowed in and couldn't physically get to work, for example.
Here on the Sunshine Coast, the risk of that sort of weather event is pretty low but we take the same approach to flexible and remote working. We have tools in place from vendors like Microsoft, HubSpot and Monday.com to manage tasks, provide updates, communicate with one another and keep projects on track. It's fair to say though that no one expected to be working remotely for as long as we've had to during COVID! Because we operate across multiple time zones, our people sometimes have to be on calls early and late, so we allow them to be flexible with their hours and have corresponding downtime when it suits them.

Do you have official company values?
Our team got together and brainstormed this last year. It was a useful exercise because it made us define the 'rules' we were already living by. Being accountable and solutions focused is the first one. What that means in practice is that if someone wants to raise an issue or problem with me, I'm happy for them to do so, provided they've come up with three possible ways to address it that we can work through together. Acting with integrity and keeping our word is another biggie.
Outsiders may question why we were bothering to document our company values, given we were all in agreement on what they were, but it's added some clarity to the hiring process. When we interview candidates going forward, it will be through this lens.
We also don't commit to doing things for customers that we can't deliver on – if we say we can do something, we do it. Punctuality is something everyone on the team feels strongly about too. Personally, I find it very disrespectful when people are 'time thieves'. If we tell a client we'll be with them at 9am then we'll be there at 8.50, grabbing a coffee around the corner if we have time to kill but definitely not keeping them waiting.

What employee benefits do you have?
We offer a competitive salary and the opportunity to progress up the ranks. Both are important, if you're serious about attracting and keeping good talent. Here in Australia, we're a small company in growth mode. Obviously COVID held us back last year in terms of exploring overseas opportunities but we have a foothold in New Zealand and an eye on key markets elsewhere in the Asia Pacific region.
Our parent company has always prided itself on its calendar of social events, including a summer party and a slap-up Christmas celebration and we've tried to emulate that Down Under. In addition to those big annual events, we provide regular opportunities for employees to get together out of hours and have a bit of fun. Another benefit – from my perspective at least – is our location. Our Australian headquarters are in Maroochydore on the Sunshine Coast. While you can't see the ocean from the office, you can certainly walk to it at lunchtime!