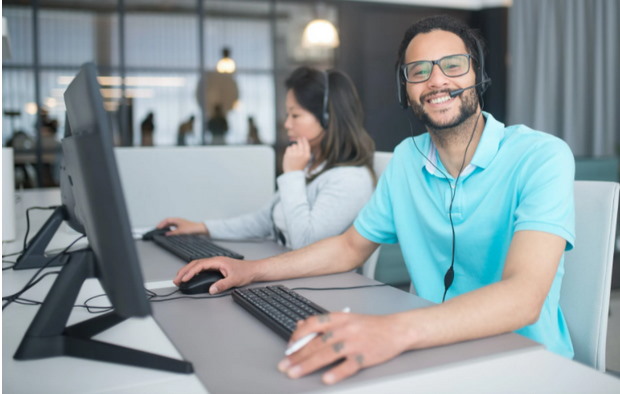 If you want to gain success in your business, you must keep your customers happy. Customer service is an integral part of every business. Even if you have the best products, you cannot gain success without good customer service.
But, choosing between in-house and outsourced customer service can be difficult. If you do not have that much worker support to handle all your customers, outsourcing your customer service is the only option. In any case, you need to maintain your production and provide your customers a good experience. OracleCMS is the best place if you want the best quality outsourced customer services.
What is the meaning of outsourcing your customer service?
Before going further, you must understand what outsourced customer service is and how it works. When you transfer your communication channels to some third-party service provider, you are outsourcing your customer service. Basically, the service is transferred to a call center that handles all your business-related calls. Handing over your customer communication channels to a third party can cause discomfort as maintaining the quality of service completely relies on how well they perform.
Why outsource your customer service?
Outsourcing customer service can be one of your biggest decisions as a business executive. Despite the initial dilemma, outsourcing customer support has proven highly beneficial for small and large businesses. Here, some of its benefits are mentioned.
Cost-effective
Outsourcing customer support can be very cost-effective if you think it through. When you have an already equipped company to handle all your customers, you save a good amount of money every year. The outsourced customer support already has all the required infrastructure and trained workers. Opting for in-house service will require a lot of effort, investment, and workers. So, outsourcing customer service will save you from all these.
Better scalability
Apart from being cost-effective, outsourced customer support lets you scale your resources according to your current needs. For example, if your customer call volume has increased 50% in a season, and you have an in-house support team, there are only two ways for you. You can either maintain your current customer base and risk the new ones or expand your infrastructure and workforce to meet the needs.
The first option is too risky, and the second option is too costly. With outsourced customer service, you do not have to worry about the scalability of your support system. The service provider makes all arrangements for you so that your customers do not get disappointed.
A well-trained workforce
Only well-trained workers can provide you a quality customer service. All your agents must be skilled enough to solve all the problems of your customer. Moreover, they should also keep the customers happy to stay loyal to the company and keep coming back.
If you opt for an in-house system, you need to train the workforce with your own investment. This will take time, effort, and money. On the other hand, hiring an outsourced customer service provides you well-trained agents, without any investment.
Advanced customer support
Best outsourced customer support companies will provide you the top-quality services. They will do every possible thing to meet the needs of your customers. Research says, most of the customers only have the patience to hold a call for one minute. Outsourced customer service will effectively reduce the Average Wait Time so that your customers can get the required help in time. They also train their agents to reduce the dead time between two calls. Moreover, the best technology will be used to increase the efficiency of all your operations.
Best customer experience
The success of any business to a great extent lies on its customers. Companies that keep their customers happy gain 50% better revenue. On the contrary, if you give up on your customers, your business will die soon. Customers will buy your product only if you treat them well. This is true for every industry.
So, to provide your customers the best support, you must outsource your system. They know how to keep all the customers satisfied. Thus, you will gain a good profit.
More focused approach
Every company has its own competencies. Increasing production, sales, campaigns, are some of the core competencies of every organization. But you cannot ignore your customers while focusing on the core aspects of your business. You have to resolve the issues of your customers. When you outsource your customer service, they will take care of your customers while you can focus on your work.
Conclusion
So, these are all the benefits of using outsourced customer services. It will positively impact your business and share your workload. Also remember, a responsive customer service brings new customers and keeps the old ones. So, every business must focus on the quality of its customer service.