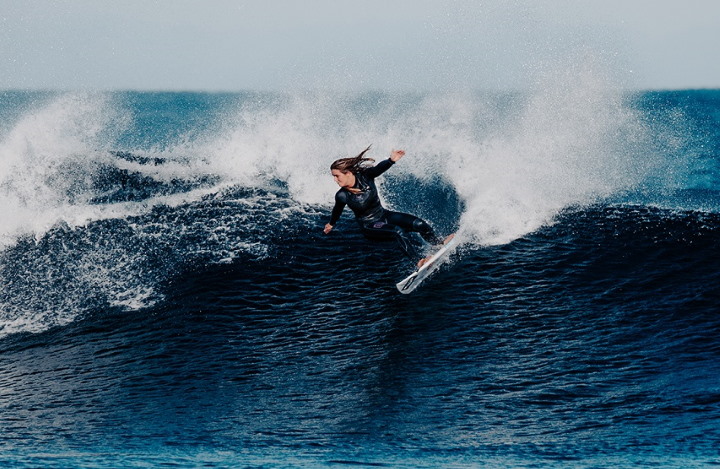 Surfing is a unique sport that combines the forces of nature with athletic ability, equipment and even strategy. There are few sports which are compared to religion, philosophy, and inner peace as surfing. This has sent millions of people to the beach in search of their own existential experience. But surfing is not an activity that is easily tamed. Only a small percentage that try it, end up looking like a pro. Surfing is hard, but if you are determined you can get there. And then you can begin your own quest for the perfect wave. Here are some tips that can give you a bit of an advantage for your first experiences.
Equipment: Having a great board isn't going to make you a pro on its own, but there is much to be gained from having the right equipment under your feet. Wherever there are ridable waves, a surf shop will likely be in the area. The staff at a surf, snow, ski store are usually the best people to ask about the equipment that would be best suited for you. Your age and body type makes a difference. You might also want to try out some rental equipment before you make a purchase. There is no sense buying a board if you are going to try it once and never look back. Soft boards are often recommended for beginners, and long boards are a little easier to ride. And if you want the best experience fresh wax will make it easier to get a grip.

Study Up: It may look like there is nothing to it, but surfing has a lot of technique. Even getting out to the waves requires some skill. Are you a good swimmer? Before you hit the beach, spend some time watching some surfing videos and listen to advice from experts. It's free, and you can benefit from years of experience.

Practice on the Beach: Before you dash off into the surf, put your board down in the sand and practice a few of the things you will need to do out there. Lay down on your board and find your balance. Practice paddling, and then get up on the board to get a feel for the balance. Sand isn't water, but it will give you an idea of how it will feel. Practice some of the different stances that you saw while watching YouTube.

Getting Up: This is the moment you go from stranded swimmer to surfer. Bring your arms in from paddling, place them under your chest and then push yourself up smoothly to bring your knees and feet under your centre of balance. You don't need to stand right up. You can keep your stance wide for the first while. Get the feel of water beneath you.
If you can get up on your board, then you can surf, of course, there are a whole lot of things your body is going to have to learn before you can have much success. Keep to smaller waves and try to master a narrower stance. Any amount of wave ridden is a success, if you stick with it, your muscle memory will start helping. After that, you are on your own journey.