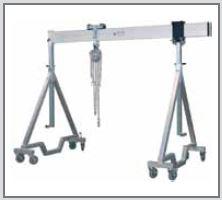 A gantry crane can make easy work of any industrial project. This type of crane is easy to use and offers workers extra space on top of the crane itself. These cranes are used in a wide range of different industries and for a number of projects. For this reason, a lot of professionals are choosing to make use of them and are finding them to be a wonderful choice for their everyday needs. Continue reading to learn more about gantry cranes, including their common uses.
What is a Gantry Crane?
Gantry cranes are ideal for many different industry workers because of the way they're designed. The crane itself has a long, strong steel beam that can be used for workers to walk across. The beam then has a crane in the middle which can be used to hoist heavy objects off the ground. The crane is suitable for many different projects, but its main purpose is to lift and carry heavy items where they need to go. These cranesare easy and quick to use for just about any type of project you need to get done.
Common Uses for Gantry Cranes
Gantry cranes can be used for a wide range of different projects. As well as being useful for heavy objects, they can also be used to complete jobs more efficiently. Some of the common uses for a gantry crane include:
* Lift and hoist heavy machinery and equipment

* Haul heavy items from one area to another

* Work underneath equipment while it's being suspended safely

* Provide additional work space for your employees
There are many different benefits to using a gantry crane, but it's important to know how and when the crane will be used for your own needs. This allows you to choose the crane that's right for your business.
Buying and Using Gantry Cranes
The great thing about gantry cranes is that they're easy to find and buy.They're incredibly affordable and can fit into virtually any type of budget. Many industry professionals purchase their cranes online, but you may be able to find a local dealer that has them available. Before buying any crane, it's important that you know how and when it's going to be used. There are some cranes that are more portable in nature, which makes them ideal for any type of project you have in a factory or warehouse setting. Knowing which type of crane you need makes all the difference when it comes to choosing one that can meet all of your requirements.
There are many different uses for gantry cranes, which is why it's important to look at the different options that are available to you. You'll find that gantry cranes are ideal for lots of different industries, making it easier than ever for you to get the right type of machinery that you need. Your work can be a lot less problematic when you have a crane like this available to both you and the rest of your workers.