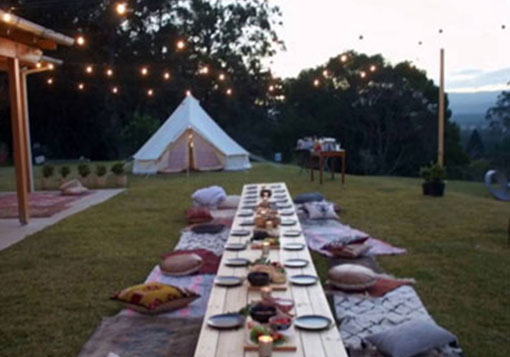 Some carefully put lighting will provide warm ambience as the day turns to dusk and dusk turns into night, it will provide enough light to eat by and safety measures along dark paths. Outdoor string lighting can be made up of a combination of wall, overhead and table fixtures.Outdoor string lights can also create a cool ambience with Fusion Lighting.
Lamps that sit on the floor in the form of lanterns and hurricane lights provide a dash of Summertime style. You have to be sure about the expert safety tips before you start illuminating your outdoors.
String Lights
The versatile strands of sparkle define edges and borders, banisters, wrap columns, or even trees, like twinkling stars they have suspended over a space to cast a magical and romantic glow.
Length- length can be estimated by using twine as a stand in, stretching from point to point exactly till where your lights go. For trees or columns, measure once around and then you can multiply it by how many times you will wind your light around. Once the total length is determined, divide it by the length of a single strand for the quantity you need to buy.
Installation - to attach lights to beams, walls, columns and trees you can use a staple gun with galvanized steel staples. You can start near the power source and make a point that there is a little slack where you attach the first point. Keep the strands centred so that you don't staple the wiring. Don't staple halfway between each bulb for larger, more spaced out bulbs. You can get away with stapling every 12 to 24 inches for smaller closer lights, depending on the weight of your lights .
For starlike magic of string lights, suspend rows of lights overhead. It gives a romantic feel under a covered patio or over a dining space.
Bulbs - small bulbs give a gentle, more decorative background twinkle while large bulbs provide a fair amount of direct illumination. Once they are installed, you can add other types of lighting for extra brightness.
Colors - Colourful strands or fun bulb covers can be vibrant options for special occasions but white lights are the most versatile. The shell shaped ones are used for a beach house, Flemingo goes for Summertime, Mini Japanese lanterns can be used for the backyard. LED bulbs and halogen are brighter and cooler. Incandescent or Edison type bulbs are warm and timeless.
Safety - when we talk about outdoor lighting or any lighting safety comes first.
Some tips are to be kept in mind for safety concerns.
● Most of the installations are not DIY, so it's best to hire an electrician.
● Every fixture and bulb should be rated for outdoor use. Places that are under roofs can get damp and very cold, so the lighting should be able to handle that.
● Bulbs used should always be of the correct type and wattage. Contact the manufacturer of the bulb or fixture if you do not know the correct wattage. Bulbs with high wattage can overheat and cause a fire.
● Use extension cords that have an independent testing laboratory label and marked for outdoor use. These are temporary solutions and cannot be used permanently for long term.
● To prevent electric shocks all the outdoor outlets should be GFCI protected.
Conclusion: Outdoor string lights bring awesomeness to your home, offices or wherever you use them. They have indeed become the pinnacle of styling. Looking at the current demand and popularity it seems like there are here to stay.