There are many sizes of shipping containers, but the 10-foot shipping container is a very small size that is perfect for many different uses. It offers storage space of 560 cubic feet with dimensions of 9'9" length, and 8'width and 9'6" high. The sides of the container and the top of it are constructed from 14-gauge corrugated steel and doors that lock. The flooring is created with plywood or planks and the unit is constructed to be wind proof and water tight. There is limited ventilation, and the unit can be moved from place to place with a forklift.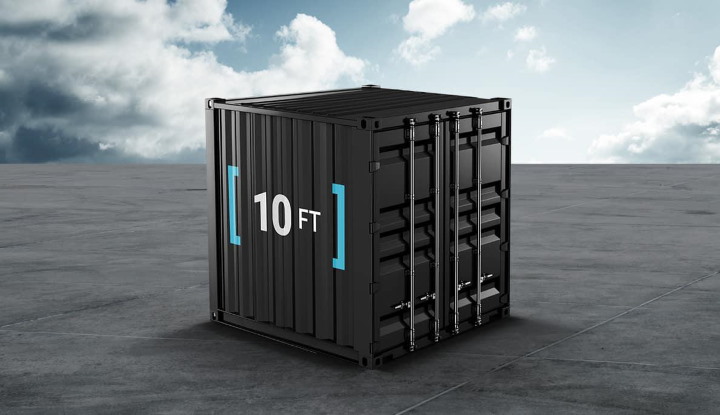 Image from https://www.tigercontainers.com/length/10ft/
What is the General Availability of 10 Foot Shipping Containers?

Since 10-foot shipping containers are not commonly used, there are far fewer 10-foot containers available than their more common counterparts – the 20 foot and 40-foot shipping container. If you are serious about sourcing 10-foot shipping containers you will want to find a reliable source to locate this container size.

Common Uses for 10 Foot Shipping Containers

Whether you are looking for a 10-foot shipping container for your home or for your business, these units are ideal for many uses. They are the perfect option for an industrial equipment shelter as well as storage for machinery when it is away from regular storage.

RTU Monitoring Unit

10-foot shipping containers are commonly used to hold remote terminal units (RTUs) for oil pipelines in North America. There is no real time or need to construct a building to hold the instruments using cinder blocks for every unit and a 10-foot shipping container can be on site quickly, ready to house expensive and crucial equipment.

Warehouse Storage at Dock Level

It is important for any warehouse manager to use the square footage that they have available thoughtfully. 10-foot shipping containers are able to be placed on a warehouse dock without prior site preparation. These units have a foot print of just 80 square feet. Doors can be installed on any of the container's walls whether you would like double doors, single doors or roll up doors.

Telecom Housing

Cell towers transmit data for texts and calls and even all internet searches to cabling and switch rooms which are on the communication grid. Located below every cell tower is the equipment that is needed to process and route data. This equipment is located inside of a secure fence but requires protection from the weather and extra security. 10-foot shipping containers can be quickly transported to the sites where they are required and connected to ensure that communications are never interrupted.

Security Hut / Ticket Booth

10-foot shipping containers can be outfitted with a small window that makes the unit ideal for security check points, truck scale stations, park entrances and ticket booths. These units are compact and can be easily converted to suit the needs of a business, depending on what it is.

What can a 10-foot Shipping Container Hold?

The 10-foot shipping container has around 72 square feet of floor space which can hold quite a bit of items. If you decide to have a "high cube" container then it will provide you with extra height of around a foot which can accommodate taller items. The 10-foot container can hold the load of a small flat or 2/3 of a room which makes them ideal for students and single people.

Loading a 10 Foot Container for Shipping

If you are planning to load your 10-foot shipping container for shipping items, there are some important things that you should know about. Before your container is delivered, you can begin collecting packing materials. Once you have done this you can donate any items that you do not want to keep. You can also sell items that are valuable that you no longer have a use for. You should begin to pack and label boxes that offer you insight into what the boxes container because you will be looking for that later. The container can be loaded with the need to spread heavy items around (furniture) and by allowing you to find items once the container has been delivered to its destination. If you are having items shipped to another country, you should determine if any items that you are planning to pack are banned or unsafe such as hazardous chemicals, fresh foods, live animals or plants.

When your container arrives, ensure it is placed on a level surface out of the way. Examine the floor in the interior and ensure that it is not dirty or damp. Air the container out before you begin loading it to ensure that it is completely dry and safe. Make a note of the container number before you have it removed for shipping.

When you begin loading your container, you can line it with blankets and take care to protect your items with bubble wrap, cardboard or newspaper to prevent your fragile items from becoming damaged. Do not overfill boxes because this will cause damage to your items. Make sure that you have enough people to help you to get the work done and stay within the weight limit of the container. If you are not going to be around after you load the container, it is a great idea to have someone watch it and lock it up so that no one can enter the container. Always place the items you will need right away near the end of the container where it can be easily found.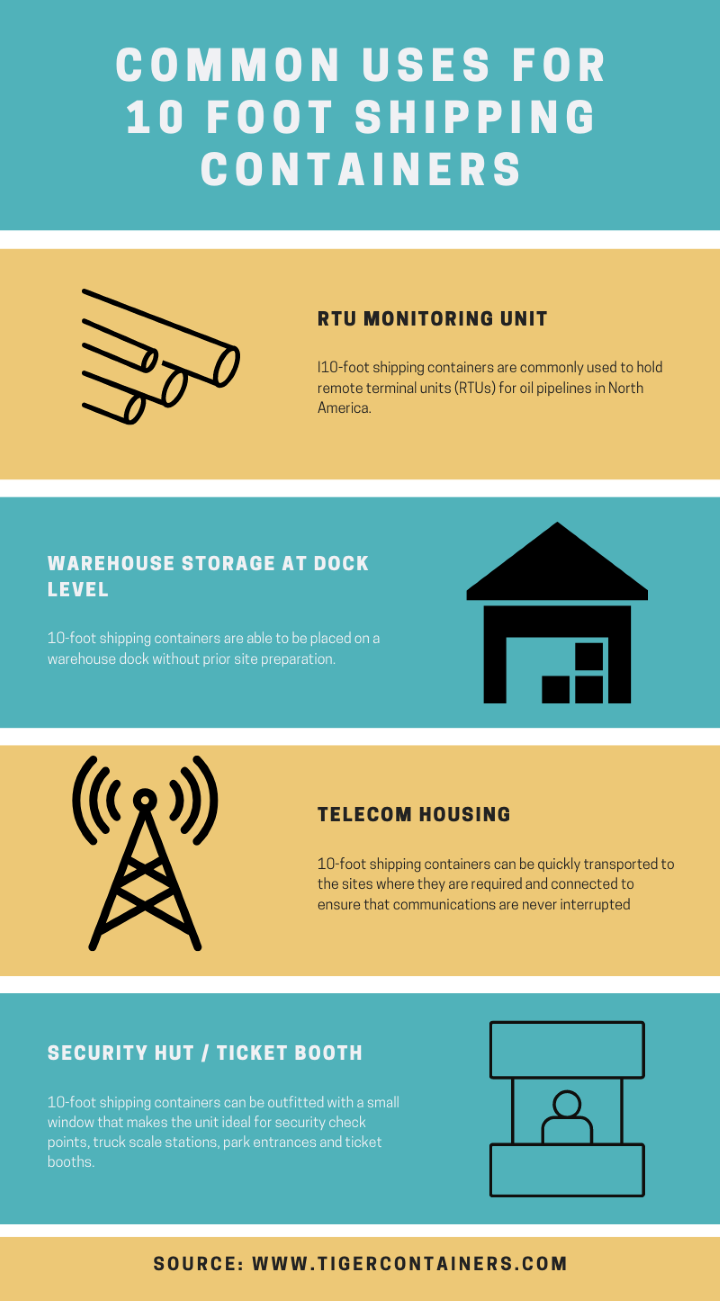 Is it Expensive to Have a 10-foot Shipping Container Transported?

The cost for transport of 10-foot shipping containers is going to vary depending on what company you use for transport and the shipping route that is used. There are other factors including the destination, the length of the hire and the time of the year that the container is shipped. Be sure to obtain several quotes before settling on one company. Inquire as to whether the shipping company will deal with extra costs such as surcharges, duties, customs and any overweight penalty costs.

Although 10-foot shipping containers are not as common as 20-foot containers or 40-foot containers, they are often used for convenience because they are smaller and easier to pack and move or to convert into different uses.

Images from Tiger Containers