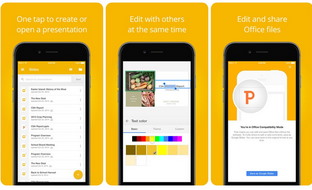 Mobile Presentation Applications (Apps) make your message more
engaging and persuasive with visual storytelling.
Using Mobile Presentation Apps, users can engage your audience and impress teachers, clients, investors, colleagues and even your boss with professional presentations that kick ass!
Be it for a pitch deck, training deck, business report, sales proposal, internal communications, training materials, school or university project, Mobile Presentation App Development provides the opportunity for users to customise their presentations and even navigate slides right from the smart watch on your wrist or using your mobile phone as a remote.
Google Slides
If you are looking to create, edit and collaborate on presentations from your phone or tablet, with the Google Slides Mobile Presentation App you can create new presentations or edit existing files, share presentations and collaborate in the same presentation at the same time, work anywhere, anytime even offline and also add and respond to comments as well.
Google Slides Mobile Presentation App users can also easily add and rearrange slides, format text and shapes, present slides to video calls, open, edit and save PowerPoint files all straight from your mobile device and never worry about losing your work.

Prezi - One of the Best Mobile Presentation Apps
Taking your desktop computer functionality a step further, Prezi is a Mobile Presentation App that lets you view, practice, and present your presentations on the go.
When you're traveling to a big pitch or meeting, you can use that time to run through your presentation on your phone or tablet. Once you arrive, users can connect via bluetooth to PC or Mac and present on the big screen, all via the Prezi Mobile Presentation App.
The offline functionality of this App means that you can present your saved presentations offline, so you'll never miss a connection and you're always ready to deliver.
With the Prezi Mobile Presentation App users can, adapt your presentation on the fly with the flow of conversation, zoom in on details and pan to reveal the big picture in context, use intuitive touch gestures like pinch to zoom, drag to pan around your canvas, leave feedback and comments on collaborative presentations and easily share your presentations via a link over email, messaging, or social media
Powtoon Mobile Presentation App
With the Powtoon Mobile Presentation App, anyone from novice to pro can create professional-looking, engaging videos and presentations in twenty minutes or less.
Used by more than 20 million people, including 96% of Fortune 500 companies, Powtoon also offers users access to Powtoon Connect, making it easier to make videos by letting you add mobile media directly to the Powtoon Studio and then view and share your completed videos with your audience, all straight from your phone.

Zoho Show
With the Zoho Show Mobile Presentation App, users can create, edit and deliver visually engaging presentations using images, shapes, and charts on the go. Users can also import PowerPoint files and edit them to give a refreshing look and feel.
Zoho Show Mobile Presentation App users can also access a library of professional slide decks to build polished business presentations in minutes and can also customize presentations with an extensive range of themes and styling tools that allow users to enhance images with filters, fill shapes with colour gradients and more.
The Zoho Show Android App Development includes endless formatting options so users can create their own shapes using scribbles, lines, polylines, curves and enhance visuals with smart elements like silhouettes, percentages and demographics.
Zoho Show Mobile Presentation App users can keep your audience hooked on your presentation with over 30 transition effects and 45 animations and you can also directly insert videos from YouTube and Dailymotion as well.
Presentation Creator Mobile App
The Presentation Creator Mobile App is the easiest way to create presentations like a professional designer, even without a day's design experience.
The Presentation Creator Mobile App Developer has also included royalty-free content to use for free without worrying about licenses as well as easy-to-use editing tools such as resize, font change, colour change, align, layer order and much more.
Presentation Creator Mobile App users can also edit images, text and icons, add content from your camera roll, social media and storage drives and then share your content easily.
Users can create as many presentations as you like and store them all for free using the Presentation Creator Mobile App.
Conclusion
Mobile Presentation Apps make it easier, cheaper, faster and smarter to create professional visual slides that get your message across in an efficient, convenient and user friendly manner.