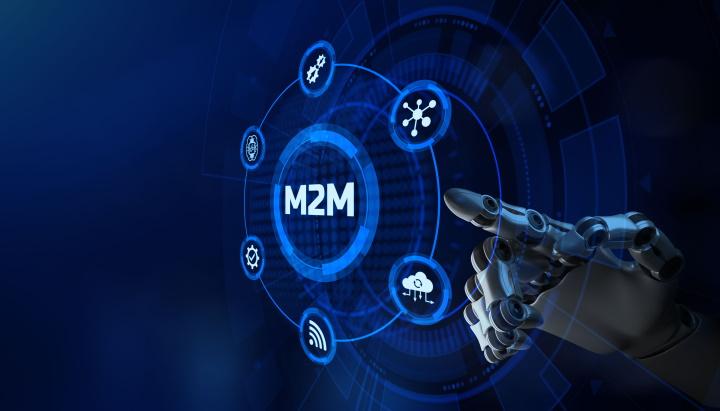 M2M, or machine-to-machine communication, is exactly what it sounds like: two machines "communicating" or sharing data without the need for human contact. M2M is a broad term that refers to any technology that allows networked devices to share information and conduct activities without the need for human intervention. Artificial intelligence (AI) and machine learning (ML) enable systems to communicate with one another while also allowing them to make independent decisions.
This includes serial connection, powerline connection (PLC), or wireless communications in the industrial Internet of Things, IoT. M2M communication has become easier due to the switch to wireless, and more applications may now be connected.
M2M is often mistaken to be the same thing as IoT. They are not the same, however, and Freeway provides both wireless services. The
Freeway - IoT connectivity management platform
is a technology that helps you manage your M2M sim card.

HOW DOES M2M CONNECTIVITY WORK?


M2M technology was originally used in manufacturing and industrial settings, where other technologies like SCADA and remote monitoring assisted in remotely managing and controlling data from equipment. M2M has subsequently found use in various industries such as healthcare, business, and insurance. M2M is also the underlying technology for the internet of things (IoT).

The primary goal of machine-to-machine technology is to collect sensor data and send it to a network. Unlike SCADA or other remote monitoring tools, M2M systems frequently employ public networks and access methods, such as cellular or Ethernet, to reduce costs.

M2M is one of the fastest-growing types of connected device technologies on the market right now, thanks to its ability to link millions of devices inside a single network. Anything can be connected to this network - from vending machines to medical equipment to vehicles to buildings. A wireless network may be connected to almost anything that contains sensor or control technologies.


BENEFITS OF M2M CONNECTIVITY


Aside from the ability to remotely monitor equipment and systems, the main advantages of M2M include:

* Decreased expenses by reducing equipment maintenance and downtime

* Enhanced customer service by proactively monitoring and servicing equipment before it malfunctions or only when it is required


M2M SIM CARDS


M2M SIM-enabled devices may transmit and receive data via cellular networks. In IoT devices, the M2M SIM may directly share data with other devices and the platform management software. The words "M2M SIM" and "IoT SIM" are frequently interchanged.

Most people associate SIM cards with the SIM card in their phone. M2M SIMs use the same wireless cellular networks as normal mobile SIM cards. However, they have advantages that standard mobile SIM cards do not:

They are more durable and can endure for years in severe settings, depending on the form factor.
They can be managed remotely. Unlike traditional SIMs, which just keep a device connected to a network, M2M SIMs may be activated, managed, and monitored in bulk, depending on the IoT management platform you choose.
They have a fixed IP address. Devices having a fixed IP address, independent of location, can be accessed more reliably and securely.

Because of these characteristics, M2M SIMs are ideal for a wide range of industrial and commercial IoT applications.


CONCLUSION


When people talk about M2M communication, they usually mean cellular communication for embedded devices. Vending machines providing inventory information or ATMs receiving authorisation to disburse cash are examples of M2M communication.