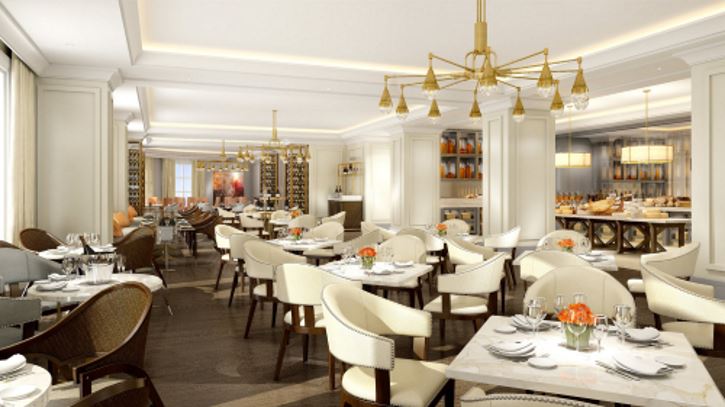 Sydney, Australia: The Langham, Sydney has re-opened doors this week with an incredible reveal that is set to impress the city of Sydney and international visitors.
This highly anticipated project has been a landmark for Sydney and the luxury market.
"Langham is recognised globally for elegance, detail, service and design" said General Manager, Sonia Lefevre.
"This incredible redevelopment will leave guests, clients and the Sydney market 'wowed' with what has been achieved in four short months".
"Not just inside the hotel but the radical perfection process we have undertaken whilst the hotel was closed with our staff" remarked Lefevre.
General Manger, Sonia Lefevre, committed to not only closing down the entire hotel for a complete renovation when the project was granted the green light, but also to retain her core staff and management team to avoid service issues, upon re-open in December.
"It was so inspiring to see an engaged team support this project from beginning to end".
"Every single staff member either bumped out the old hotel or bumped the new one in so it was very hands on".
"That shows absolute commitment and passion for the brand" commented Langham Sydney, GM.
Whilst the hotel was under closure, Lefevre led a team of 50, including 15 senior management on the journey which included testing her own skill set in Project Management and design understanding. The process included pop-up spa treatment rooms for the beauty team to trial on staff, a fine dining testing kitchen for Chef de Cuisine, Daniel Rudolph and the hotel team to experience and ideas generation training to exceed current ways of thinking inside hotels.
"Sydney is a glamourous city, like Paris or New York and we wanted to cater to people who are aspirational about these style of cities without the experience being intimidating" reveals Lefevre.
"Mixology with jazz after 5pm, the biggest guestrooms and suites in Sydney, gastronomical cocktails at the click of a finger, dog friendly suites, private butler tennis afternoons – lots of unique offerings".
"Our public spaces have changed dramatically but they are still very warm and welcoming" confirms Lefevre.
Working with design legends, responsible for some of the world's most beautiful structures and interiors, GA Design London and Australian luxury building experts, ICMG, Lefevre solely took on a project management role for the group, undertaking detailed build details most General Managers would not encounter.
"It was a privilege, and a learning experience to work with such high level operators who share the same desire for attention to detail that our brand does" said Lefevre.
GA Design played a critical part in designing every detail including every room, structure, interior fit out and each single piece of furniture inside the hotel. From the gold and white shellac finish on the reception desk to the multi-million dollar spa redesign to the expansive marble fireplaces in each public space, to each individual chair, table, coffee table, bed head, handmade rug, interior fit out and lamp shade.
"Langham is such an iconic brand that we wanted to ensure our designs communicated the story of the hotels' grand history whilst simultaneously reinvigorating the spaces with contemporary design elements combined with sophisticated and classic references." Su Ball, Executive Director for GA Designs.
"In order to give the hotel a high-end residential feel, we introduced rich, elegant materials and stylish features aiming to produce unique yet timeless spaces for the guests to enjoy".
"One of the key features at the hotel is the significant collection of artworks by renowned Australian artists which can be seen throughout the public areas, including in the signature Langham Palm Court".
"Our hopes are that the new Langham Sydney will be recognised as one of the premium luxury hotels in Sydney and be testament to the eminent Langham brand."
Langham Hospitality Group purchased The Langham, Sydney [previously The Observatory Hotel] in 2012 from Orient Express and rebranded in the same year with great success. The executive team allocated two years to carefully appraise the Sydney space before confirming redevelopment plans in 2014.
The Sydney market was examined closely and carefully and there was a sense that very few hotels offered a grand residential feel and opulence in the luxury market" said Sonia Lefevre.
"This is a truly international product, designed to offer Sydney an asset that doesn't currently exist in terms of opulence, elegance and luxury".
Some of that opulence includes the $1 million Sotheby's art collection on the walls of the public spaces.
"Sotheby's was a natural fit for our brand and they have been incredible to work with"
"Reviewing the collection with Sotheby's as it evolved and watching each piece bring our key spaces to life, was a once in a lifetime opportunity."
Further luxury touches include Afternoon Tea with Wedgwood, a global initiative and brand partnership for Langham Hotels & Resorts, which sees two classic luxury brands celebrating the art of "afternoon tea" in Langham Sydney's new palatial afternoon tea space – Palm Court. The space is one of the stand out areas within the hotel, featuring warm golden tones with strong accents of amber, against an enormous white calacatta marble fire place which flows into a luxe open plan bar.
The Day Spa initially planned to be rebranded a Chuan Spa, in line with other Langham sister properties, remains The Day Spa at The Langham, Sydney.
"The Day Spa and Sydney-siders have a special connection and we decided embrace that further" said Charlie Price, Spa Director.
The luxury underground facility has received a multi-million dollar redevelopment of its own but remains unchanged in terms of specialised therapists, luxe treatments and spa pedigree. The spa's famous 20 metre pool, recently voted #1 Pool Experience in Sydney, also remains perfectly intact.
"We have long been a haven for celebrities, socialites and busy professionals who appreciate complete privacy and often book a suite and make a weekend of retreat of it" said Price.
Parisian trained Chef de Cuisine, Daniel Rudolph [formerly of est.] has delivered relaxed fine dining inside Kent Street Kitchen. The restaurant, which features a professional chefs kitchen in the middle of the restaurant, invites diners to immerse themselves in an authentic kitchen experience and explore elegant hand crafted produce at their leisure. Inside the kitchen, they are also able to quiz chefs about the produce, how it was created and their techniques.
The most impressive element of Kent Street Kitchen is access to one of Sydney's most exclusive a la carte fine dining menus under one pre-fixe cost with a menu that changes dramatically every month. Seating 140 pax, including spaces for private chef table experiences and long table dinners in the soon to be released "Garden Room", Kent Street Kitchen is a diverse restaurant for hotel guests, local Sydney-siders and special occasion clients.
"We travelled the world looking for the right concept and ended up taking parts of everything we loved to create something really special and different" said Rudolph.
"Our former restaurant was very formal and serious, and famous for that but Kent Street Kitchen is a little more relaxed without taking the serious food element away".
"We are literally inviting people at the start of the meal to come inside the kitchen, with a glass of wine, taste some flavours and converse, like they would at a friend's home".
"The other exciting announcement is that we are launching a glamourous Long Sunday Brunch in 2015 that is going to be incredible" said Rudolph.
Other notable mentions within the hotel includes the introduction of a new luxury experience menu for guests and local Sydney-siders alike. Think private butler tennis afternoons with Pimms, Lemonade and Cucumber Sandwich service; glamourous take away picnic boxes complete with romantic pink bicycles for a luxe, foodie adventure around the city. And a favourite for brand loyalists, The Langham Pink Taxi, complimentary for in-house guests who are off to a local lunch, meeting or appointment.
With doors re-opening successfully Tuesday and a myriad of guests flowing through from midday onwards, The Langham, Sydney has proudly arrived back into Sydney with a grand debut, including impressive occupancy levels, full sittings for Afternoon Tea with Wedgwood and a buzzing bar inside Palm Court each evening.
"To think this is just the first week" said Lefevre
"The biggest comment from guests over the last 72 hours has been that they literally cannot believe this is the same hotel – they are completely blown away with the transformation".
The Langham, Sydney re-opened on Tuesday 2 December, 2014.
Rooms start from $635 per night.