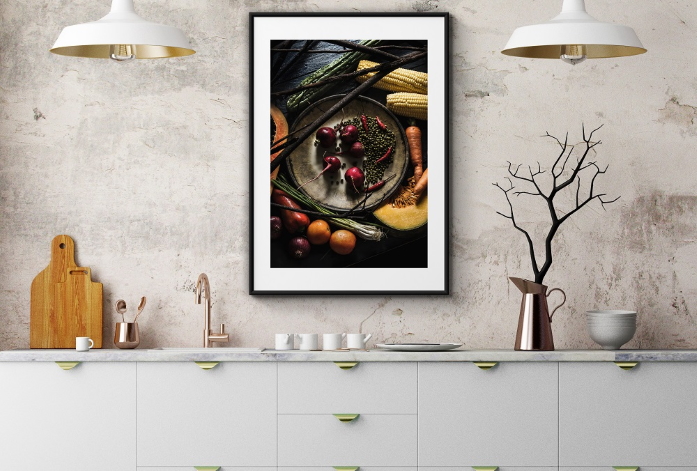 Are you tired of looking through magazines and TV shows for trendy kitchen decoration ideas, but it seems like none of them really gives you a major remodelling look for your kitchen? It may be because they don't have variations in their ideas with some added creativity.
Here, we've got some pretty easy and great decoration ideas on how you can totally change the look of your kitchen and upgrade the entire thing. The fun part is, you can alway choose to combine wallpapers, paint and wall art by adding your own creativity to it. This will give you more satisfaction, beautification and uniqueness in your newly decorated kitchen.
Naturally, we are able to see things at a stable eye level. This means the first noticeable change you must bring to your kitchen is to its walls. Decorating them in a way that is beautiful and good looking is going to take some effort. You can make a big impression with implementing some quick DIY ideas. It will not only change your entire mood while cooking but will also give a comfortable and savvy dining experience to all family members.
Using A Creative Three-Color Palette
Take a quick look at your kitchen and imagine how you wish for it to look after a change. Should it be dingy, monochromatic or bright? Or some light fruit-themed color?
Whatever way you choose it to look like, know that a three color palette will look luxurious. You can choose to have golden, black and yellow colors for it to give a royal look or you can choose to have a blue, pink and yellow colored theme for a more comfy feeling that will give embracement.
Also, these color combinations are the ones that will compliment each other while giving a glorious look as a backdrop decor. For this purpose, a neutral color will do wonders. Make sure to choose a color that will give a unique vibe to your kitchen. You can also use wallpapers of your favourite colored theme.
After choosing to decorate and polish the walls, you can then move to cooking gadgets, countertops, appliances, and floor. Just use a perfect theme that is also complementary.
A Decorative Focal Point
Coming to the focal point of your kitchen that includes stovetop, hood, a sink, and may be a centre island. It would be best to pay close attention to all these as they are some of the things that grab instant attention of a viewer.
From your three color palette, selecting a bold shade for your focal points will work out very well to provide an elegant overall look to the kitchen. In addition, you can also hang a large piece of art on the focal wall. Make sure the color of art isn't the same bold one, it will look in contrast to it.
If you choose to paint your walls, then you can use textured or patterned wallpapers for your cabinets as well. This will be exceptionally unique and you will be able to change them from time to time.
This is just like dressing up your kitchen in different seasons.
If you got inspired by the write-up, then make sure to click here for more info on trendy kitchen decor.