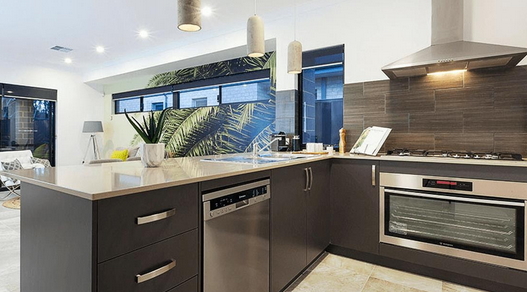 In recent times, the kitchen has evolved from z utilitarian space to a visually appealing showpiece to be proud of. It's also now a space where family and friends can gather to share meals and good times.
With that lifestyle in mind, many modern kitchens have open spaces that flow into the living area, thus warranting extra attention to their design.
A well-designed kitchen space cleverly integrates elements such as layout, colour, worktops, and appliances. If you're a
first time home buyer WA
who's looking for ideas to spice up the appearance of your kitchen, here are some great ideas.
1. Pay Attention To The Work Triangle
The kitchen needs to be first and foremost, a safe and functional space for you to work in. If you can't reach all your utensils and ingredients safely and efficiently, there's little point in having a visually appealing kitchen.
The kitchen work triangle refers to the positioning of your sink, fridge, and cooktop. They have to be within easy reach, yet have enough space between them so that at least two people can work comfortably without bumping into each other.
Plan a simple layout of your kitchen with the main appliances in it. Consider the number of appliances you want to have and their sizes, and think about the location of the doors, windows, as well as ceiling height.
2. Play With Surface Materials And Finishings
The surfaces of your countertops and cabinets can greatly influence the look and feel of your kitchen. Countertops come in various materials from durable stone surfaces such as marble, granite, and concrete, to budget-friendly laminate. When choosing a surface, make sure it fits in with your overall design and budget.
You can also customise the materials and finishings of your cabinets. You can go for classy wood, laminate, and even steel surfaces. A lacquer finish on wooden surfaces gives your kitchen a rustic feel, whereas paint is an easy and versatile way to customise your surfaces.
When browsing
display homes in Perth
, why not pay attention to their kitchen for more inspiration!

3. Get Two Islands!
The kitchen island is a great space for preparing ingredients, having a quick breakfast, and entertaining a guest or two. Why not have two island benches in your kitchen - you can use one island to prepare food and the other as a full-sized dining table.
An island bench can store plates, glasses, and utensils for your guests, so you don't need to run back-and-forth to the kitchen every time someone needs something. Furthermore, a second island closer to the living room can serve as a decorative piece on its own.
4. Use Concealed Storage Spaces
Concealed storage spaces provide practical storage for your utensils and appliances while keeping your kitchen looking clean and pristine. Most hidden storage utilises sliding doors and floor-to-ceiling doors that have flat, flush surfaces to blend in with the wall.
While concealed kitchen spaces can cost more to build (thanks to the complicated mechanisms of the doors and drawers) they never fail to amaze guests and homeowners alike.
5. Add a Splash of Colour
The monochromatic kitchen with black, white, and metallic surfaces may look clean and professional, but colourful kitchens are making a comeback and the reason is simple - colour adds life and emotion to a space.
Adding some colour to your kitchen is one of the easiest things you can do to refresh it as you only require a bit of paint, some brushes, and time. Pair your favourite colour(s) with natural surfaces such as marble or granite countertop to give your kitchen a modern yet classic look.
6. Have a Flexible, Livable Layout
More first time home buyers - from single professionals to young couples - are enjoying active lifestyles and prefer a flexible home layout where they can eat, socialise, and work anywhere they want.
A well-thought-out kitchen layout with a bar island, comfortable chairs, and plenty of walking space around it can serve as a suitable area to dine and work in. If executed well, you can use this extension of your kitchen to create a continuous living space with the living room where you have more space for yourself as well as friends and family.
7. Don't Forget The Appliances
Many people purchase kitchen appliances as an afterthought. However, if you plan ahead, you can integrate all the appliances you need in your daily life into your kitchen without wasting space.
You can opt for integrated appliances such as ovens or fridges that sit perfectly in their spaces or show them off. Either way, set aside enough budget for quality appliances as they'll be serving you for years to come.
Building the perfect kitchen doesn't require a huge budget and effort - you just need proper research and planning, or alternatively, have a professional help you out.