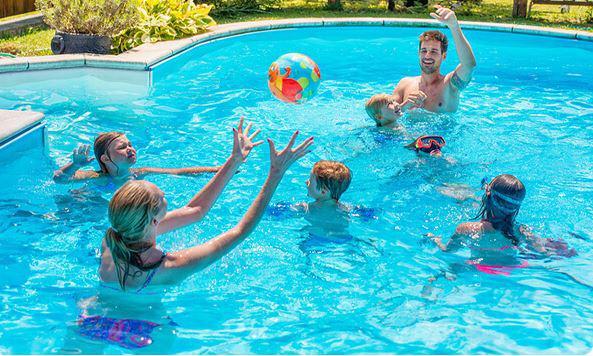 Pool parties are one of the most ideal things to host during the sweltering heat of summer. Friends will flock as the temperature soars, so forming a big guest list is rarely a problem for pool owners. Instead, preparing for your guests with the best pool party possible should be on your agenda. Once the planning is started, quite a few people realise it's not as easy as it initially seems. Aside from choosing a cool theme (most likely something tropical or a Hawaiian Luau, there are a bunch of other things to consider so that your guests have fun and aren't negatively affected by the overly hot weather. Read on for some excellent tips to get you started in creating an amazing pool party!
Impress your guests with theme and activities
Bright, summery and vibrant themes and are always important for a good pool party – something like a Sunnylife swan or flamingo is an easy way to give a pool party more life. In addition to more traditional options like lanterns and streamers, there are dozens of other inflatable options as well, including palm trees and beach balls – just let your imagination run wild! If you're going for a tiki themed party, you can set up a bar with fun tropical drinks (just make sure everyone remains hydrated as well). Also encourage people to dress on-theme as well! Planning pool games is also a great way to have people playing with each other in the pool, rather than just splashing about for hours. You can be inventive and introduce some games that don't require objects, otherwise balls, water balloons, pool noodles and foam boards can all lead to manic fun! Having pool floats on hand is not only good for these games, but can be handy for younger children or people who aren't too confident in the water.
Make sure to take care of your guests
For guests who might be tired or not interested in taking a dip, make sure you have sufficient outdoor chairs available so that they can relax while watching all the excitement in the pool. If they're still looking to get involved somehow, you can hand over music duties to one of them! Because your pool party will likely be hosted outdoors, you'll need to remember to protect your guests from the elements. Sunscreen is a must, as is insect repellent – both of these things are frequently forgotten by guests as they get caught up in the excitement of being in the pool on a hot day. You can arrange these on a station near the pool so that guests are reminded to reapply both after being in the pool for a while. For a more subtle touch, citronella tiki torches will help keep bugs away while giving your party a tropical look.
Throwing a great pool party isn't that hard!
If you've decided to treat your friends to a refreshing pool party, there aren't too many things that can go wrong. Just remember to dress up your pool with a great theme, create an amazing playlist, provide food if you're planning on having a long party and have chairs set up for people who need rests. Along with the fun stuff, make sure to have a station set up with water, sunscreen and insect repellent so your guests don't feel too worse for wear the next day – otherwise they might not come back!