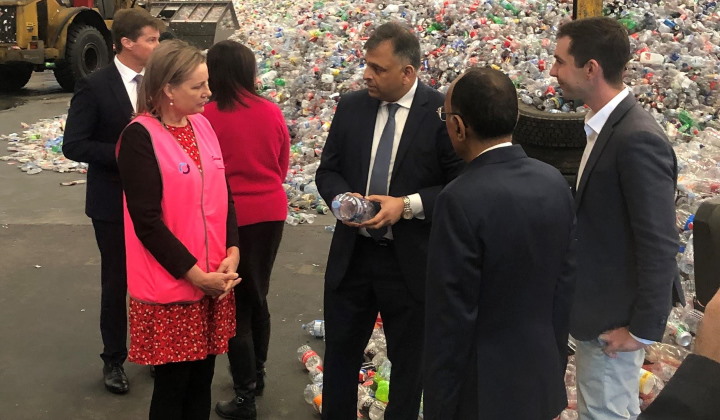 There is an island of plastic three times the size of France floating on the surface of the Pacific Ocean.
Known as the "great Pacific garbage patch," the plastic found in the approximately 1.8 trillion pieces of trash not only harms marine life, but the microplastics ingested by them can end up in the seafood eaten by humans. With the human population set to produce 27 billion tonnes of municipal solid waste by 2050, the horrifying visual of a great island of plastic floating through the ocean is sadly just one example of the negative effects plastic waste has had on our planet.
Thankfully, an increasing number of governments and businesses across the world have been stepping up to the task of working toward a more sustainable future. In an unparalleled expansion of its recycling capacity, Australia recently announced its waste and recycling industry will be transformed by the Recycling Modernisation Fund. The government has committed $190 million (US$134 million) to the fund, which will in turn generate $600 million (US$428 million) of recycling investment, as well as create more than 10,000 jobs and see more than 10 million tonnes of waste diverted from landfill.
For
Vik Bansal
, the CEO of Australia's largest waste management company Cleanaway, this injection gives the country's waste management industry the confidence to invest in infrastructure and innovation.
Under Bansal's direction, Cleanaway
has worked to find ways to transform what may be seen to some as waste into a resource that again has value. Below, he provides commentary as we explore the ways in which Australia is finding closed-loop solutions for materials.
Australians create approximately 67 million tonnes of waste a year, and for many people once they've put their waste in the recycling or rubbish little thought is given to what happens to it next. For items placed in general waste bins in almost every case it goes straight to a landfill, but when it comes to recycling things can get more complicated. The current recycling system is up against consumer confusion about what is acceptable as commingled recycling, there are high levels of contamination, and mixed material products may be eliminated altogether because one form of material is inseparable from the other, such as with plastic-lined paper. Even if a waste item provided is perfectly recyclable material there is a chance it may not end up recycled if there is no viable market for it.
Markets for recyclable material were further challenged in 2017 by China's announcement that it would ban imports of 24 categories of recyclables and solid waste by the end of the year. Having dominated the global manufacturing industry, China was also the largest global importer of many types of recyclable materials, and those in the world who had relied on China for their waste and recycling processing were left scrambling. While broader international markets for recyclable material also existed many followed China's lead in tightening their restrictions.
As a result, Australia developed a national strategy to change the way they looked at waste, the National Waste Policy Action Plan. The ambitious plan set goals such as banning the export of waste plastic, paper, glass and tyres, reducing total waste generated in Australia by 10% per person, increasing the use of recycled content by governments and industry, phasing out problematic and unnecessary plastics, halving the amount of organic waste sent to landfills, and reaching a national resource recovery target of 80%. The ban on waste exports will begin to roll out next year, with unprocessed glass in January of 2021, mixed plastics in July of 2021, whole used tyres in December of 2021, single resin and polymer plastics by July of 2022, and mixed and unsorted cardboard and paper by July 2024. If all goes according to plan, the rest of the targets will be reached by 2030.
"Apart from the environmental benefits of increased recycling, a circular economy will create better economic and social outcomes from new commercial and job opportunities," said Bansal on the government's initiative. "A fully implemented and enforced national framework that encourages the reuse, recycling and recovery of products, and responsible product design is exactly what Australia needs to build resilient, future-proof industries."
By the end of 2024 the full waste export ban will have come into effect, and the Recycling Modernisation Fund (RMF) is the latest initiative taken by the Australian government to account for the 650,000 tonnes of additional waste plastic, paper, glass, and tyres that will accumulate each year. The fund will be used to support investment in new infrastructure capable of sorting, processing, and remanufacturing these materials, contingent on co-funding from industry, states, and territories. A further $35 million will be devoted to implementing Commonwealth commitments under Australia's National Waste Policy Action Plan, plus $24.6 million on Commonwealth commitments to improve national waste data to assist in tracking progress against recycling targets. Besides the generation of new revenue through beefing up their domestic waste industry, the investment will also allow for the creation of more green jobs while also transforming waste materials into valuable resources that can be put back into the economy.
For Bansal and his company Cleanaway
, sustainability is at the core of everything they do, and investing in infrastructure is paramount in order for the country to have the domestic recycling capabilities necessary by the time 2024 rolls around. A new recycling facility in Albury/Wodonga is being built, supported by a grant from the Environmental Trust as part of the NSW Government's Waste Less, Recycle More initiative funded from the waste levy. The facility will process up to 28,000 tonnes of plastic -- equivalent to 900 million plastic bottles -- into flake and food-grade pellets that will be used as a raw material for manufacturing food and beverage packaging. Anticipating the facility will be operational by December of 2021, it will have service markets across the East Coast while also creating approximately 30 local jobs. The facility is part of a joint venture with Pact Group and Asahi Beverages, bringing together the volume throughput of Cleanaway's container collections, Pact's technical recycling expertise and Asahi's consumer product manufacturing to buy the majority of the recycled pellets from the facility, therefore closing the loop and ensuring there is a demand for the recycled materials.
"The partnership will create valuable raw materials from the recyclables we collect and sort to help
make a sustainable future possible," said Bansal.
Cleanaway's business is devoted to viewing waste not as a problem, but as a resource that has the ability to transform into valuable commodities for every sector, industry and community. While much of the world now faces challenges due to a previous reliance on outsourcing to solve their waste and recycling problems, like Cleanaway, Australia has decided to view it as an opportunity to innovate new solutions. Through investing in its own domestic waste industry, Australia has decidedly forgone taking steps toward a more sustainable future, instead opting for a full-fledged leap.
Connect with Vik Bansal on
Twitter
and
LinkedIn
.