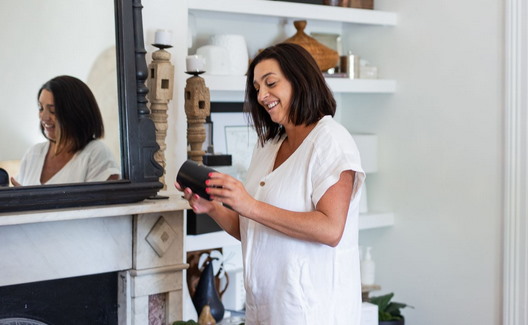 It's not uncommon to hear words of warning when you mention entering into work with your family, but for me, it was such a viable move. I took a leap of faith in taking over the family business, The White Place, and I've since watched it evolve into a really interesting, multi-faceted brand.
Founded by Fran, my mother and inspiration, The White Place was originally a sanctuary of beautiful, eccentric, predominantly white homewares. With a carefully curated selection of rugs, furniture, ceramics, and ornaments, the business was influenced by the pristine landscapes of Santorini; home to plenty of fond memories for my family, as we often frequented the Greek islands in summer.
Leaving behind a secure career in financial services, I made the move back to Orange in 2015, taking over the business and beginning to think how else I and The White Place could share our love of décor with not only Orange, but all of Australia.
I had my reservations, no doubt, but at the end of the day family is full of people who share the same work ethic, morals, and attitudes as me. We all have the same end goal in mind, to build a successful business and brand, so that's what I have to keep top of mind if and when I ever have doubts.
The White Place now encompasses an event styling company, including custom hire, design, styling, and registry based on your function and your desired look and feel. The latest and most notable piece of the puzzle, which I'm very proud of, is our boutique accommodation. Taking over two federation homes in the heart of Orange, we created luxurious four bedroom stays on Byng Street and Casey Street, flipping and filling them with all the best The White Place has to offer. If you like what you see inside the houses, well you'll love to learn that everything from the couches, to the candles, to the salt and pepper shakers, is available for purchase in store and online. A very tangible form of marketing we like to think!
While juggling the shop, style, and stay sounds like the hardest part, its actually finding boundaries. A challenge for me is leaving work at work, and learning to be present in my personal family lives. The lines tend to get a little blurred so it has been a huge learning curve in finding the time to switch off entirely, and be just a mum when I can.
My husband Johno and younger sister Sophie also play a very active role in the business, but instead of thinking about what could go wrong, and that we might get on each other's nerves, I tend to shift my focus and go ok, they too have my best interests at heart, they're backing this business. They've always been my support network, but know they're business partners too. It is possible, and our collective passion is what comes through in everything we do. I think sometimes that added investment and personal touch is lost amongst big brands and fast-paced business models.
My final piece of advice would be to make sure you can confidently and cooperatively work with those you love, it's not feasible for every family but if you pull it off, your business will truly thrive.