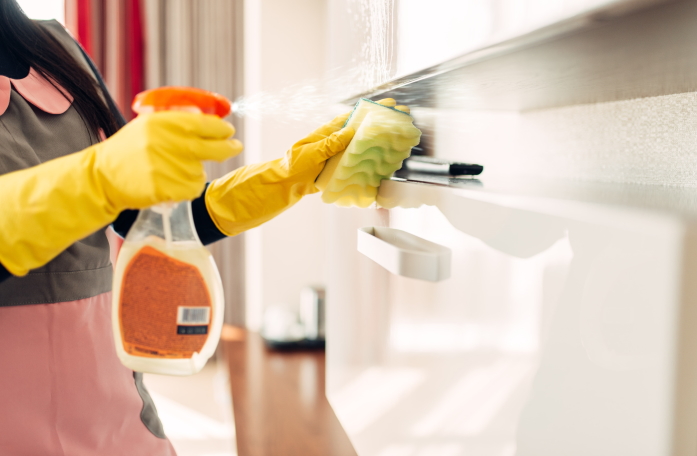 Becoming a cleaning industry franchisee could be the best financial decision you'll ever make. Cleaning is, after all, an evergreen industry with consistent demand, even in the face of a recession and especially in the hygiene-obsessed post-COVID era. But that doesn't mean you should dive right in.
Not all franchisers offer equal value, and some are more successful than others. You must do due diligence with your research to optimise your earnings and achieve business success.
Here are 7 things to consider when buying a cleaning franchise.

1. The franchiser's reputation
A well-established cleaning franchise with a proven track record of results is going to be a safer bet than the new kid on the block. Although start-up franchisers may offer more favourable terms and conditions, you'll be taking a significant risk as there's no guarantee their business model will succeed.
A brand that's been around for several years and shown consistent growth, on the other hand, is much more likely to lead you to success. Research your favourite franchiser's brand presence, strategic expansions, success rates, and business reputation before buying in. Take a close look at the company's top executives to gauge whether they've got what it takes to grow the brand.
2. The number of franchisees
One sure-fire way to determine a franchiser's success is to examine how they've grown over the years. A well-established franchiser that's expanded to include hundreds of branches around Australia over multiple decades is going to be a pretty safe bet (better yet if it's a multinational). These large mega-corporations have well-defined policies and procedures, as well as a generous marketing budget to seek out new customers on your behalf.
Smaller companies, however, don't have these comprehensive systems in place, which means it'll be up to you to work things out on your own—hardly ideal for a rookie entrepreneur.
3. The costs and conditions
Running a franchise lets you avoid the high start-up costs of an independent business while enjoying the benefits of operating under a big-name brand. And although the costs associated with starting a franchise are much lower than an independent company, there's still a significant financial outlay involved. Work out exactly how much money you're willing to risk on your new business venture and shop around for a franchise that aligns with your budget.
Well-established franchisers will include all the vital information on their website or information pack. Consider the terms of the agreement, too: the franchiser's cut, the licensing fee, and the operating expenses.
4. The services rendered
The cleaning industry is divided into two main sectors: commercial and residential. Residential cleaning businesses are easier to operate, while commercial cleaning enterprises are more complex yet have a higher potential for profit. Work out which sector appeals to you most and choose an appropriate franchiser. Some of the larger franchisers work across both sectors and may let you choose where to focus your efforts.
If you've got experience working in commercial cleaning or negotiating with corporate office managers, then you're already well-positioned to enter the commercial sector. Monthly contracts, large-scale projects, and regular janitorial services provide consistent and predictable income.
You may also consider specialising in a specific industry niche, such as floor cleaning services, high rise window washing, and scheduled maintenance.
5. The start-up process
Novice business owners should seek out a franchise whose start-up procedure is as simple as possible. Research whether the franchiser provides sufficient support in formulating a marketing strategy and implementing a long-term business plan. The acquisition process must be straightforward and spelled out in layman's terms.
Experienced entrepreneurs, however, could potentially navigate their way around a more complex start-up procedure should they determine the potential for profit is worth the extra work.
6. The level of support
A good franchiser will provide ongoing support to all its franchisees, regardless of how well the store is performing. The novice entrepreneur will need their hand held right throughout the start-up process. Check whether your franchiser of choice provides training on key processes like marketing, recruitment, acquisition, and bookkeeping.
Support shouldn't be limited to the initial start-up phase. A successful franchiser will assist franchisees for the entire duration of the relationship, offering ongoing support to help optimise operations and minimise expenses.
7. The marketing initiatives
One of the big advantages of going down the franchise path is you won't have to worry about marketing; the franchiser takes care of all this on your behalf and includes these expenses in your licensing fee.
Advertising is crucial to business success in the modern age, so you need to ensure your franchiser is pulling their weight. Evaluate its online presence and gauge brand awareness among the public. A well-known company with favourable reviews and a robust marketing strategy is going to be easier to grow than an obscure company.
Some cleaning companies are considerably more successful than others, so it's crucial you do your research when selecting your future franchise. Whether you're looking for a
cleaning franchise in Melbourne
or elsewhere in Australia, keep these tips in mind for your best chance of success.