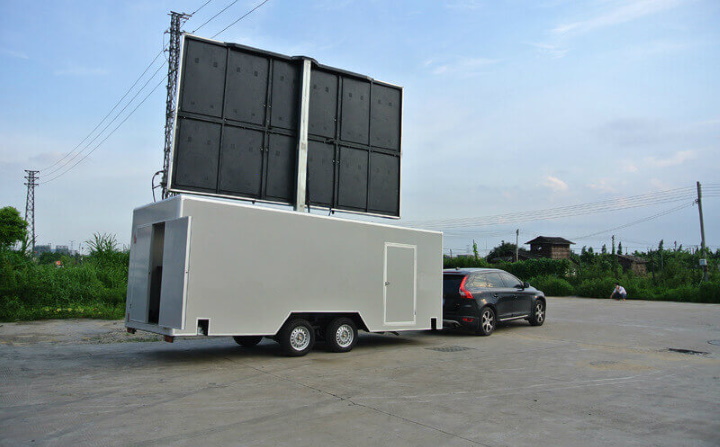 Are you going to hold a big event? Among all the needs, it is necessary to have a large Led screen as they are light in weight and can cover a large area with a greater viewing angle. As you know we are living in the world of technology where daily many revolutions are made for making life convenient and easy for mankind. In the same way, many changes have been done in the event planning industry. In the past, it was not easy to install the led display screen in vanes, but mobile rental led screen trailers have made this process easier. The use of led screen trailers is the best solution for those who want to get a movable rental screen.
The led screens come with two options; modular and mobile. Modular screens are considered the best option for individual use while mobile screens are the best option for covering a crowd and are built onto the wheels. These led screens are ultra-light in weight and easy to move from one place to another. That's why these rental led screens have a huge demand in video conferences, star performances, wedding ceremonies, and all such events. Rental screens come with too much installation, and it affects the cost of the event also. Therefore, rental led screen trailers are introduced from many well-known manufacturing industries as the best solution to this problem.
This idea has not only decreased the cost but also has gotten great importance due to unique features and operating system. So instead of buying any fixed outdoor led display, it is better to look for a led display screen trailer that will be flexible for use in various events.
What is a rental led screen trailer?
Is the truck or trailer having a led screen, audio equipment, power supply system, hydraulic lifting, trailer chassis, and rotation system? The led screen set onto the trailer has a small pixel pitch and provides clear video visually. It is flexible to install and operate the system on it.
Benefits of using
rental led screen trailer
: There are many advantages of using rental led screen trailers, such as
* It doesn't need many bolts and wires for connectivity like that of the rental led screen as it requires only three wires, along with 4- large bolts.
* It takes only 15 minutes to install the screen.
* All these things put a great impact on lowering the cost rate and making the event more amazing.
* There is also less chance of damage to the led screen during installation than the rental led screen. You can easily transport the screen without damaging it.
* You don't need many staff and workers to build this setup.
* It is made up of aluminum; hence it is a better tool for heat dissipation than any other steel cabinet trailer.
* Its ultra-lightweight and unique construction makes it perfect for improving the working condition of the led screen.
* One of the most amazing things is that you can easily your previous led display screen on a customized led trailer. You will only need to buy trailer chassis with hydraulics.