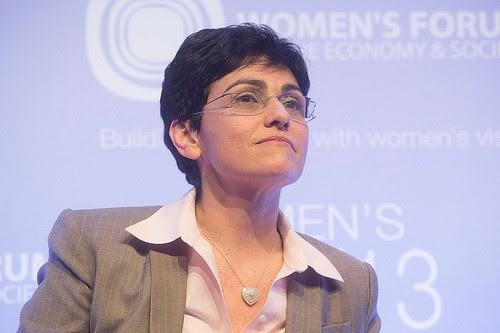 As one of the largest port operators and foreign trade logistics companies in Brazil, Libra Holding SA is the first group in Latin America to integrate port, road, rail and air by focusing on strategic investments in infrastructure and foreign trade.

Celina Carpi's journey from director to executive vice president to board of directors of Libra Holding has been a varied and engaging journey. Beginning her career as an engineer, she worked in the financial services area of Libra and earned her MBA. Later, she progressed to shop operations and finally, logistics.

"Along the way, I also earned a law degree and was named vice president of Libra," says Carpi, a member of Young Presidents' Organization since 2007. "Finally, when the board of directors was formed, I was selected as a director. Who knows what the next chapter of my journey with Libra might be?"

Libra Holding's integration of transport was constructed as a way to find the best possible logistics solutions and build a competitive economy by building a strong value chain.

"A modern, successful and responsible society can no longer address logistics from a narrow perspective," says Carpi. "It's no longer acceptable to provide a solution; now it is imperative to determine the best possible solution. This is critical for any society serious about developing a low carbon economy. Brazil will have amazing opportunities in the near future, but these opportunities will only be realized if we can manage several value chains."

The bulk of Libra's sustainable innovations can be attributed to the old construction business saying, "measure twice and cut once."

"Continuously measuring the societal and economic impact of our processes and value chain is the key to real success," says Carpi. "Understanding impact is perhaps the best way to avoid distraction and move toward a more sustainable society. In a business, clever publicity makes for good marketing but measuring social and economic impact makes for a good society; at Libra we consistently measure, respond and repeat."

Carpi's academic career – which includes studying infrastructure in the market economy at the Kennedy School and earning a master's degree in sustainability and environmental management at Harvard University – has always been directly integrated with her business career.

"As I saw the need, or opportunity, for business growth, I would support my efforts with a greater academic understanding," she says. "For example, as I became more and more involved with public policy, I chose to bolster my skills by studying sociology. In addition to my MBA from INSEAD, I've earned degrees in engineering, the law, sociology and environmental studies."

According to the World Bank, gender inequality in Brazil remains high, but there are benefits to witnessing what other business cultures around the world have created in order to learn from their mistakes.

"Brazil is still shaping what the final version of gender equality will look like in our culture," says Carpi. "We can create an environment where women are powerful – both in the boardroom and on the factory floor – but without simply becoming a female version of men. I believe that women have a unique role in society; we appreciate the totality of life, perhaps even better than men, and it's important that as we rise in the business community, we don't forget our full range of skills."

As a female business leader, Carpi has witnessed some marked changes in her industry, namely the evolution of what was once a completely male-dominated culture to something very different.

"Just a few years ago, logistics and especially port management, allowed women one responsibility in the workplace: answering telephones," she says. "Now when we answer the phone at the office it is as CEOs and leaders of business unions. Now we answer the phone as decision-makers not for decision-makers."

When Capri joined YPO in 2007 on the recommendation of friends and business colleagues she believed she would find a unique resource for her interest in the concept of sustainable and profitable business.

"During the past few years, YPO has been valuable to me at so many different levels; however, if I were to identify one single value, it's that I have met so many, truly exceptional and outstanding business women who are now friends. I've built friendships and developed an exchange of experience across cultures which has been extraordinarily valuable."

To hear Capri explain it, improving the nature of all relationships – business, familial and friends – is the key to staying inspired.

"I'm inspired by everything from the impact of business processes at work to the shimmer of sunlight on the water as I drink my morning coffee," she says. "I'm inspired by my family and as a 'Carioca' I am constantly, and wonderfully, inspired by my city. I take inspiration wherever I find it and let it guide and push me forward every day."
YPO (Young Presidents' Organization) is a not-for-profit, global network of young chief executives connected through the shared mission of becoming Better Leaders Through Education and Idea Exchange™. For more information, visit www.ypo.org.