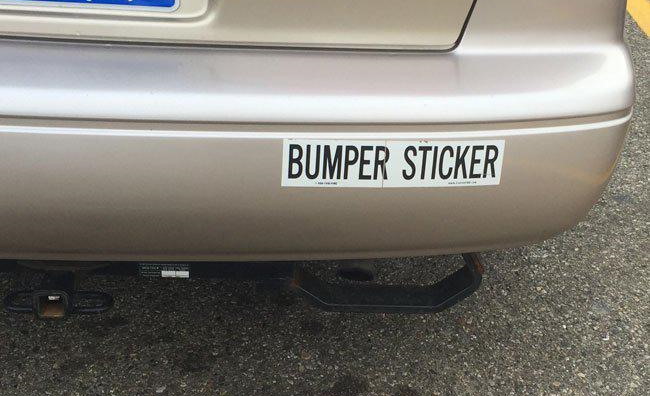 While it's true that bumper stickers have an airy, nostalgic feel about them, this shouldn't indicate that they aren't a great way to get your name out there. How many times have you idled in traffic and laughed at someone's sticker on their car, or seen a baby on board sign? We bet it's a lot, so if you imagine your brand there instead, you should have some idea of how much reach bumper stickers really have. In this article, we take a closer look at bumper stickers to give you a better idea of what you might be missing out on.
A small investment that pays off
Consider just how many cars there are in the city, and using bumper stickers in Los Angeles almost seems like a no-brainer. It isn't just Los Angeles, though – any city that has regular enough traffic will be the marketing paradise of any upstart brand looking to be seen. This is because bumper stickers can be seen as the ultimate form of marketing exposure – in any given town, if a car drives for a few hours it will undoubtedly be seen by a lot of people, and particularly those cars stuck behind them at traffic lights. It's in these situations where an interesting, eye-catching design will draw the attention of a bored driver and stir their interest. In this way, bumper stickers can be considered in a similar way to a billboard – as you might see billboards driving around town, so will you see stickers. The only difference here is that the cost of billboards is absolutely massive, while the entry price of stickers is comparatively paltry. The affordability of bumper stickers makes them very simple to constantly update – as your brand messaging or marketing campaign changes, so can your stickers.
Looking for a no maintenance marketing option?
Unlike digital advertising that relies heavily on keywords and constant exposure, bumper stickers are about as hands off as you can get. When they're put on a car (or wherever else they might find themselves) bumper stickers will keep on showing off your brand until they succumb to weather or time. This can be offset even further if you invest in higher quality stickers that boast weather and/or UV resistance. This is particularly useful if your design relies heavily on imagery (and particularly bright imagery), as this disappearing quickly can mean that your big sticker investment is a bust. If you're looking to entice more with shape and style, that also works well – bumper stickers can be made into a wide assortment of shapes and sizes. This means that rather than awkwardly having to stick your message into a shape where it simply doesn't fit (or just looks silly), you can create a design that really shows off your brand as you originally intended it.
A small budget can create some large results
Marketing can really upset the budget of a business, particularly if they're a start-up. If you're wanting to engage with a marketing strategy without breaking the bank, getting back to basics with a bumper sticker may very well be the answer for you. Because they're such a low cost option, they also make experimentation a much more rewarding pay off – this way, you can try a few stickers out and see what works for your brand.