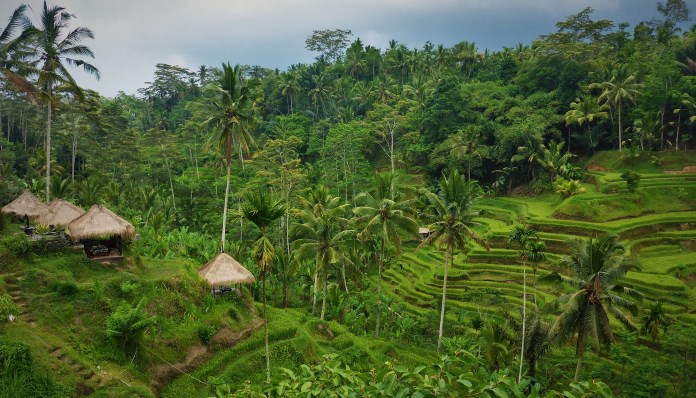 The south of Bali is where it all happens. Buzzing beach towns, parties, happening beach clubs, beautiful white sandy beaches, ocean clifftops and the whole shebang. Plenty of things to see and do indeed! Here are 5 must-dos in the south of Bali Island:
1. Shopping, wining & dining in Seminyak
This cosmopolitan beach town is much-loved among tourists for reasons. If not for the famous beach clubs and high-end restaurants, the boutique shops, galleries and luxury spas will keep you coming back for more. Seminyak is home to an abundance of private villas suitable for travelers on all budgets. They make a great base from where to discover what Seminyak and the other hot spots of the south are all about. You can conveniently explore this fashionable town on foot, shopping, wining and dining on the famous Oberoi Road and Seminyak Village, exploring the nightlife on Dhyana Pura 'Party' street and lounging at KU DE TA Beach Club, Potato Head or La Plancha where you'll get blown away by the gorgeous island sunset every day.


2. Surfing in Canggu
Canggu has always been a surfers haven with an easy, laid-back vibe and great waves for both beginning and advanced surfers. Pop down to the beach for a lesson or two; it is great fun! Afterwards, your efforts are rewarded with ice cold beers, a stunning sunset sky and good times with like-minded people. Apart from the surfing, Canggu has got some great healthy food restaurants, fun and lively weekend markets, yoga studios, and every evening, there are live music and people dancing somewhere, someplace.


3. Motorbike tour around the southern tip
If you dare to drive in Bali's chaotic traffic (do bring your international driver's license to avoid police hassle), you will love driving around the southern tip of Bali Island. The southern tip is surrounded by stunning white sand beaches, cliff tops and plenty of quiet roads through scenic landscapes. It is just wonderful to drive here with the wind in your back. Balangan, Dreamland, Padang Padang, Blue Point, Nyang Nyang, Pandawa, Geger - the list of gorgeous beaches is good for at least 2 days of beach fun. Waves, monkeys, viewpoints and the Uluwatu Temple - there is lots to see and do, and you are bound to love it!


4. Cycling in Sanur
For those who prefer not to drive a motorbike in Bali, why not go cycling in and around Sanur? Sanur is a fisherman's village that turned into a lovely tourist town over the years and unlike other towns in this area, Sanur is perfect for cycling. In town, there are beaches, shops, restaurants, ice cream stands and everything you'd expect in a touristy place. To get away from it all, cycle to Serangan Island and visit the turtle sanctuary.


5. Water sports in Tanjung Benoa
Tanjung Benoa is the place to be for watersports. Speedboat-towed parachutes jet skis or how about hiring a water jetpack that allows you to fly 10 meters up in the sky? You can even explore the underwater world without having to be able to swim with the seawalker tour. You will wear a special astronaut-like helmet that allows you to breathe normally underwater, Amazing!
Written by Stephanie of Villa-Finder.com