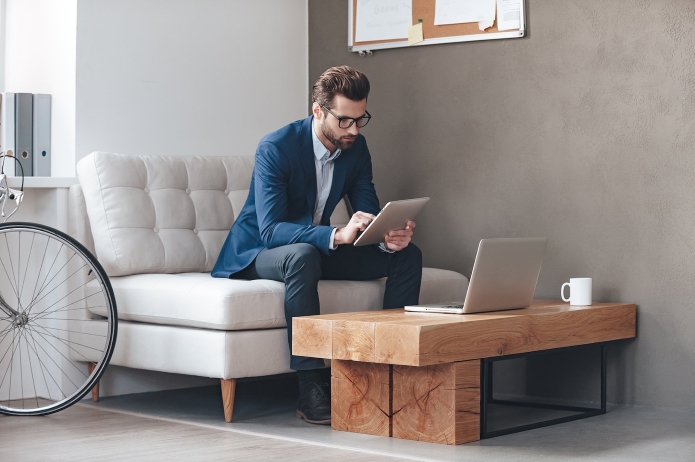 Buying your first business suit is a landmark moment in your career. After years of hard work and study, your first suit is a sign that you're finally ready to enter the professional job market. Even as many workplaces shift toward a "dress for your day" policy or business casual dress code, a suit and tie remain all but essential for interviews, important meetings, and company events.
A good suit projects an air of professionalism, boosts your confidence, and can create a sense of belonging among your appears. Some would even argue that buying the right suit is essential to a smooth transition into the professional world - and they're not wrong. Studies show that for 55% of hiring managers, first impressions of candidates are determined based on the way they dress; for 65%, attire can be the deciding factor between similar candidates. In short: candidates are still expected to "dress for success".
In spite of this, the question of how to choose the right suit is one that stumps many young job seekers. With so many styles, fabrics, and options on the market, finding the right suit can seem like a daunting task.
To help you sort out your first business suit, we've teamed up with GradConnection, the experts in all things related to graduate jobs. From where to look to what factors to consider, read on for their top four tips for buying your first suit.
1. Know your size
The first step to getting the right suit fit is knowing your suit size. Suits are sized differently to other items of clothing: A size medium shirt, for example, won't necessarily correspond to a size medium suit. Because of this, it's essential to use your actual body measurements when buying your first business suit.
Recruit a friend or family member to take the following key measurements for you: height, chest girth, and inseam (length from the top of your thigh to your ankle). Your suit size will comprise your chest girth followed by "Short" (5' 8" or shorter), "Regular" (5' 9" to 6' 1" tall) , or "Long" (6' 2" or taller), depending on your height. For example, if you're 6' tall and have a chest girth of 42, your suit size will be 42 Regular, or 42 R.
2. Choose your style
One of the most challenging aspects of choosing a suit for work is knowing what style will be the most appropriate. In most cases, this is context specific. If you're looking to enter the finance, law, or business industries, for example, a conservative cut may be your best bet. On the other hand, if you're looking to land a job in architecture, design, or another creative field, you may have more room for more experimentation.
Whatever your situation, we recommend keeping it simple with your first business suit. Consider classic, versatile colours like navy, grey, and black, and avoid bold prints and fussy detailing. Buying your first suit is about finding an everyday wardrobe staple, not making a sartorial statement - there will be plenty of time to do that later in your career. The same goes for tailoring: Choose a smart, slim cut but avoid anything that is too tight or uncomfortable.
3. Consider care requirements
Looking after your suit is just as important as finding the right suit in the first place. Before deciding on a business suit, think realistically about the time and effort you're willing to put into keeping it in good condition. A business suit is an investment that, with the right care and maintenance, will last you for the first years of your career and beyond.
Most cheap business suits are made from polyester, a polyester-cotton blend, or other synthetic fabrics such as viscose or rayon. Affordable and low maintenance, these are ideal first business suits in all ways but one: Their short lifespan. Suits made from synthetic fibres last for less time than their counterparts made from natural fibres, and begin to lose their shape far sooner.
Linen, cotton, or wool business suits, on the other hand, require slightly more care but have a longer lifespan. Unlike synthetic suits, they will need to be regularly steamed or pressed to remove wrinkles and creases, and should be aired to prevent any odours. Typically, suits made from more expensive natural fibres demonstrate a high level of craftsmanship and tailoring, and will remain wearable for years to come.

4. Visit your nearest suit shop
While it can be tempting to buy your first suit online, we strongly recommend paying your closest suit shop a visit. Store staff will take accurate measurements and give recommendations accordingly, and their objective advice can mean the difference between a perfect suit fit and one that leaves a little to be desired.
Plus, given the significant cost entailed in buying a suit, it may be sensible to try before you buy.
Finding the perfect suit is an exciting step in your career
Whether you're attending interviews for your dream internship or about to start your graduate role, a good suit is a must-have for any aspiring young professional. Taking the time to find the perfect business suit can pay off by not only making you look ready for the professional world, but also making you feel confident and ready.
Want more tips for starting your career as a graduate? Head to GradConnection today for more advice and job opportunities with more than 1500 of Australia's top employers.