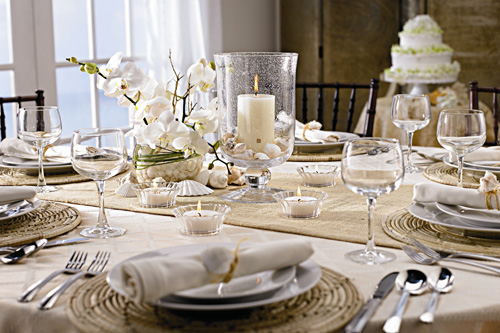 Planning a wedding is about the details. You make endless lists, crossing of each task as you go. One of the very first things you need to do, after planning the date, the location and the guest list, is to send out the invitations. There are so many options for invitations these days it can be dizzying trying to choose the right one. Although the design and the wording are essentially just a matter of personal preference, the choice of which paper to have your invitations on is a little more objective. Which paper should you use? The answer is a definitive "that depends."
The primary determinant for which kind of paper you should choose is your budget. Paper comes in all different weights, finishes and styles and the price per piece can range from very affordable to super lux. Decide how much of your wedding budget you want to allot to your invitations and go from there. Are you invitations important to you? Do you think they set the mood for your whole wedding? Or do you simply see them as a vehicle by which to convey pertinent information, something that the recipients will likely just toss away? Your viewpoint on the matter should guide your budget and your budget should then guide your choice in paper.
Heavier weight paper is best used if you want your invitations to have a speciality finish. For example, if you intend to have your invitation feature gold-foil print or intricate laser cuts in the design, a heavier-weight linen paper is in order. If you are opting for a simple invitation printed in regular ink, lighter-weight, more affordable paper is perfectly fine.
Another consideration is the amount of enclosures you plan to include with your invitation. For example, for a destination wedding you may have more enclosures beyond the RSVP card, such as travel information, flight info, resort information, etc. If you include a thick invitation on heavyweight paper along with all of those enclosures, otherwise it will be too costly to mail them.
And remember: Always bring your personality to your invitations. If you are having a casual wedding, don't go for super-fancy invitations. Similarly, if your wedding is black tie, make sure your invitations reflect that level of formality. The style of your invitation doesn't necessarily have to affect your budget. There are beautiful invitations in every style at every price point.
Choosing the right paper on which to print your invitations can seem daunting at first. They key is to start planning well in advance so you can get a clear picture of your budget and how much you can afford to spend on your invitations. From there, it's important to work with a reputable paper products expert such as White Paper. They'll give you some very valuable advice as to which papers you should use and what the best options are within your particular budget. They can guide you through the entire process and help you make choices along the way.