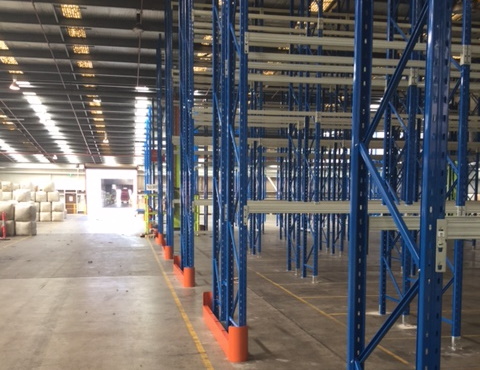 There are many simple things you can do to keep your pallet racking safe. Some of these interventions involve training your workers appropriately and carefully considering design, use and implementation of your pallet racking. All of these things can have a positive effect on safety in your warehouse.
Operator Training for Forklift Drivers
Untrained forklift operators are one of the most frequent causes of pallet racking damage and failure. Tight turns and the chance that the forklift may bump into racks alongside the machine are potential hazards that untrained forklift operators are not equipped to handle. This is concerning, as forklifts are highly dangerous pieces of equipment, especially in the hands of the untrained. If you want to keep your warehouse pallet racking system safe, you must ensure your forklift operators are suitably trained. Doing so will not only save your pallet racking, but could even save your employees' lives.
Consider Your Warehouse Layout
Your warehouse layout can either enhance or inhibit safety. For example, have you checked whether your warehouse aisles are wide enough to accommodate machinery that is used on the factory floor? There might be a temptation to squeeze in more merchandise, compressing the aisles and making them smaller than they ought to be. But this is a bad move, as it can encourage collisions between machinery and pallet racking systems, which can cause extensive damage.
Use Protective Measures
Even if your forklift drivers are highly trained, they can still make the odd mistake here and there. For the best results and better safety when it comes to pallet racking, use protective measures such as guardrails, end of rack guards, column protectors, and bollards to deflect impact. Any pallet racking supplier should also be able to equip you with these protective products to make your warehouse a safer environment. It doesn't have to be expensive to use these protective measures – try asking a few suppliers for quotes. Your investment now could mean money saved down the line.
Anchor Your Pallet Racks
The safest warehouses will always anchor their pallet racking to the floor to keep everything completely stable. When you anchor your pallet racking, it helps make it immune to the inevitable knocks and bumps that can happen on a factory floor. The anchoring of pallet racking is an exact science, and may be influenced by the seismic hazard zone in which you're located, so make sure you get professional advice on how to affix your pallet racking to the floor.
Don't Overload Your Racks
If your warehouse is overcrowded, you might be cramming more than you should onto storage racks in order to free up floor space. While it's understandable how this can happen, the consequences can be devastating. If you're ignoring the load capacity of your pallet racks, they're likely to collapse, leading to injury of your workers. Not to mention the damage that a collapse might cause to the pallet racking itself. Load limits should be shown on each rack so that everyone is aware of these limits and abides by them. If you don't know the load capacity of your pallet racking, contact your supplier to find out what it is.