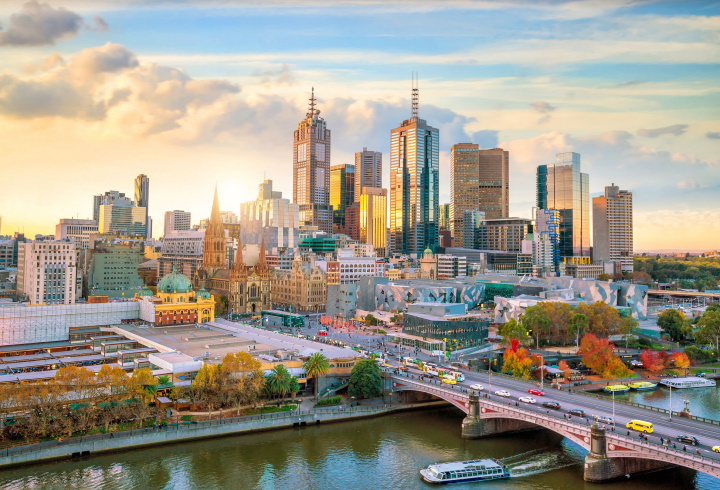 Melbourne is one of the most charming cities in the world. It is the coastal capital of the southeastern Australian state of Australia and one of the fastest-growing municipalities in Australia. Melbourne is an active metropolis, with a thrilling city center and inner-city neighborhoods that are full of unique experiences.
The city is known for its cultural diversity, excellent food, exceptional dining options, numerous outdoor activities, and stunning street art. If you are looking for a fantastic place to spend your vacation, Melbourne is the perfect place for you. Below are some of the best things to do in Melbourne.
1. Drink the World's Best Coffee
If you are in Melbourne, take some time and enjoy the world's best coffee. An overwhelming majority of tourists worldwide have confirmed that Melbourne was well and truly number one when it comes to coffee. This is according to the reviews given by more than a thousand users on website booking.com. Melbourne takes pride in its exceptional specialty roasters that consistently endeavor for excellence.
The city beats out most of the world's highly recognized coffee cities, such as Rome and Vienna. As the world leader in coffee and café culture, most cafes in London even let their visitors know that they are selling Melbourne baristas.
While in Melbourne, you can enjoy your coffee in various joints such as Brother Baba Budan, Rumble Coffee Roasters, Axil Coffee Roasters, Proud Mary, Dukes Coffee Roaster, and others.
2. Enjoy Melbourne's Fantastic Street Art
Melbourne is widely recognized for its exceptional street art, being ranked one of the world's street art capitals. The city council has set aside specific areas for street artists, and the street arts exhibited here are of premium quality. The art adds a significant urban vibe that keeps the tourists and natives entertained.
If you are interested in learning more about the art or how it is made, you can participate in the street artists' art tour. Melbourne's best street art is at Johnston Street, Rose street Fitzroy, Cubitt street Cremorne, Easey's Collingwood, Hosier Lane CBD, Duckboard place CBD, and others.
3. Visit the Beaches
When it's summertime, most people think of hitting up the local beaches. Although most people believe beaches are only meant for swimming, there are numerous things to do. If you are tired of participating in the same old activities at the beaches, Melbourne's beaches will give you a lifetime experience.
Apart from swimming, you can play on the boardwalk, look for dolphins, play Frisbee, go fishing, go surfing, have a bonfire party, look for seashells, do some window shopping at the little seaside shops, and do other fun activities. Melbourne has several beaches such as Brighton Beach, St Kilda Beach, and Williamstown Beach Mordialloc Beach.
4. Learn About Science and Technology at Scienceworks
Melbourne has a charming place, known as Scienceworks, where everyone can learn about science and technology. Scienceworks is located within a few kilometers from Melbourne in Spotswood.
The place has a thrilling array of hands-on science exhibits, live demonstrations, shows, workshops, guided tours, special activities, among others. Most people, especially kids, love visiting this place as it is fun, interactive, and educational.
5. Stroll the Botanic Gardens
The botanic garden is a common spot for walkers and joggers and is situated a few miles from the city center. It has more than 8000 plant species making it colorful, picturesque, and fascinating. It is one of the most incredible tourist attractions, with most tourists visiting this destination each year.
Have fun at the green lawn, enjoy the views of the lake and let the children play fun games at the garden's bamboo hideaways. If you are looking for tranquility, this place is perfect for you. You cannot get hungry in the park since two cafes are always open from morning to evening. To enjoy the most of Botanic gardens, ensure you have enough time.
6. Visit the Museums
Melbourne is famous for its rich culture, art, history, and architecture. It is situated in the Charming old customs house. You can find inspiration at some of Melbourne's most famous museums. For example, you can learn the history and the diverse populations of Melbourne and the entire population of Victoria at the Immigration Museum.
The museum also has a history of the immigration experience, explanations of identity, and the daunting journey that most immigrants would have gone through while heading to Australia. It also incorporates the custom Gallery, a documentation of the past manifestation of the Old Customs House.
You can also visit the National Gallery of Victoria, situated in the St. Kilda Road building. This museum is one of Australia's oldest and most visited public art galleries. The museum showcases massive European, Asian, Oceanic, and American works of art. The place also has other things to offer, such as special events, children's programs, tours, and performances.
Other museums to visit while in Melbourne include; Lyon Housemuseum, Melbourne Museum, Islamic Museum of Australia, National sports museum, and Australian Center for the moving image.
7. Have a Night Out at the Crown Casino Complex
The Crown Casino Complex is a huge casino and resort near the Yarra River. It is the biggest casino complex in the southern hemisphere and also internationally. The casino operates 24/7 except during public holidays.
Apart from participating in gambling sessions, you can take time to shop at the most luxurious shopping joints at the complex. You can also enjoy delectable meals available at some fantastic restaurants found at the complex. If you are a nightlife enthusiast, this place is perfect for you.
The atrium area is charming, with picturesque fountains and light shows. You can find pyrotechnic towers next to the complex that are amazing to watch. You can also enjoy shooting fireballs into the night sky.
8. Have Unique Experience at the Queen Victoria Market
While in Melbourne, spare some time to experience the hustle and bustle of the Queen Victoria Markets. It is one of the biggest open-air markets in the Southern hemisphere and is commonly visited by locals and internationals.
You can enjoy different delicacies at Victoria markets, such as smoked meats, olives, cheeses, and others.
The building itself exhibits Victorian architecture, and you will enjoy numerous artisanal crafts designed by native creatives.
9. Wander Through Melbourne's Arcades and Laneways
Unplanned wandering through the lanes and alleyways of Melbourne is a fantastic way to experience the beauty of the city. If you want to have more fun as you wander around, visit the areas around Flinders, Collins, and Bourke.
If you want to do some shopping while strolling around the lanes, the tremendous Block Arcade in Collins Street is one of the most common places to visit. You can find almost everything on this street, from jewelry to designer clothes and shoes, gifts, cafes, chemists, groceries, and others.
If you are not conversant with the city, you can access the city maps at the Federation Square Visitor information center.
10. Attend a Performance at Arts Centre Melbourne
Enjoy a theatre performance, dance, incredible music, or comedy at the Arts Centre Melbourne. It is one of Melbourne's largest and top-rated arts and culture venues. Located at the banks of the Yarra River and a few miles from South Bank, Arts Centre Melbourne brings together a vast range of state-of-the-art theatres and spaces.
A short distance from this venue, you can stop by the outdoor concert at the Sidney Myer Music Bowl in the Kings Domain Gardens and the Australian Music Vault.
After the performance, you can organize a cocktail party or any other type of party at some of Melbourne's best event spaces. Whether you are looking to party in the suburbs, rooftops, or by the Yarra River, Melbourne has the best function venues that will make your function unforgettable.
11. Play Different Sports Games at the MCG
Melbourne is a vibrant city, and most of its locals engage in different sports games such as cricket, soccer, rugby, and basketball. If you are a sports fanatic, visit the MCG as it's the center of all sports.
Located in Yarra Park, Melbourne, Victoria, MCG is one of the biggest stadiums in Australia and among the biggest in the world. Also, its light towers are the tallest, convenient for any sporting activity.
12. Cruise on the Yarra River
If you want to relax and experience more of Melbourne's sights and other most desirable treasures, you can cruise on the Yarra River. You can also learn more about the river's history while seeing the most exotic Melbourne destinations in an easy way.
13. Sip Cocktails at Some of Melbourne's Top Bars
Melbourne is fortunate to have world-class cocktail lounges which blend comfort and class. While in Melbourne, you can enjoy some cocktails at the city's best Chapel Street Bars, such as Southside Central, The Emerson, The Smith, Wilson & Market, Hoo Haa Bar and Lounge, Babble Bar, and Café, among others.
14. See the Little Penguins of St. Kilda
Plan a day trip to Philip Island and enjoy seeing the little Penguins of St. Kilda. It is imperative to know that this is only a day's activity since the little penguins get back to the rocks after swimming and catching fish.
15. Shop at Melbourne's Renowned Shopping Joints
Melbourne is highly recognized for its luxurious and world-class shopping. While in the city, shop till you drop at Chapel Street, Bridge Road in Richmond, and Fitzroy. There are malls, grocery stalls, furniture hubs, and electronic hubs where you can find all Australian and international brands.
Enjoy Your Stay in Melbourne
You have no reason to get bored while on a short visit or a vacation in Melbourne. Whether you are wild, calm, introverted, or highly extroverted, Melbourne has everything for you.