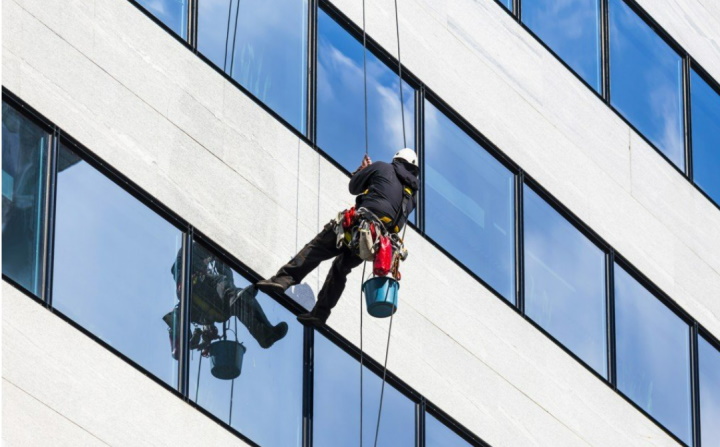 How would a city look with a flatter skyscraper that holds so much of a city's skyline?
Corky, right?
The reason that we don't get to see such dull buildings is that we have high rise window washers. They take life risks every single day, to make sure those windows are clean for office people to enjoy the outside views and outside ones to see their city shining off their glass.
Even though the work they do is an on-demand job, it's fatal to both these men and people walking by the streets if proper measures are not taken care of.
Around 120 deaths have been reported in Australia, because of erroneous gear and resources.
The Australian height safety rules favour the management of appropriate amenities in every industry dealing in building window cleaning services.
Therefore, avoiding accidents is very important to prevent these men from being fatally injured.
In Order To Avoid Mishap High-Rise Buildings Window Cleaning One Must Make Sure The Following Are In Proper Function.

Equipment Checks: Cleaning highrise windows are like rock climbing. So before setting off to work, one needs to make sure the gears are in proper order. If not, they have to be sent for repairing or replacements to meet the codes and standards.
Height safety systems Australia comprises of the following major components:
Roof Safety Certifications
Aluminium Rung Ladder Systems

Steel Platforms

Steel Handrails

PPE Supplies

Davit Arms

Abseil Monorails

Aluminium Gantries

Highly Trained Personnel:
For a work of such high risks, the workmen have to be trained beforehand. They need proper knowledge of the protective gears especially the fall arrest system, which is designed to prevent them from highrise falls.
After proper inspection of gears, the workmen have to be made aware of the devices that are going to be used, along with their safety accessories.

Physical And Mental Health of Workmen: Imagine yourself hanging from the 30th floor of a tower.
Fainted already? Just imagine how hard it is for the window washers to do this job every day. It's very usual for some workmen to lose their senses when working at such heights. Before the panelling, the service companies must ensure that the worker's mental and physical conditions are tested and good enough to take the stress.

Personal Safety Gears Are Medically Tested: Personal safety gear including, Headgear, Face and Eyewear, Heavy-duty gloves, industrial rope access and other safety vests must be provided to the workmen at all conditions. These will protect the men at work even if anything goes wrong.

Site Assessments: This is an extremely important part of this whole work process. Without knowing which area your men are gonna be working, it's unsafe to send men to work. Assessing a site involves having proper knowledge of the building foundation, weather conditions, tripping hazard conditions, changes in elevation work surfaces, availability of ladders and open electrical wires in order to avoid getting electrocuted. The crew needs to have prior knowledge of the number of occupants or others who might be present nearby the site and could get possibly harmed.
Wrap Up
A Backup Strategy: Even if other conditions fail to give security, there must be a substitute that can inevitably save the lives of men.
At Prime Industrial Access, our spirit and intentions are towards maintaining the best Australian Height Safety Services that follows the world-class design and installation standards.
Safeguard to maintain the Australian Building Standards and train the employees proportionately to fight back any uncertain condition.
Learn that your slightest fault or gap can ultimately lead to repercussions that can't be overturned.
Because we all know- "Prevention is better than cure"