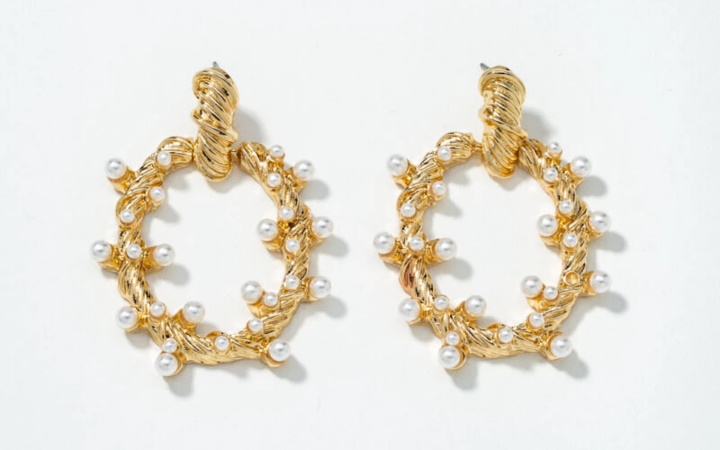 Pearls as high fashion accessories
Pearls will never go out of style. Jewellery of this kind has been embellishing women's styles for centuries. In the 1920s, strings of pearls worn by fashionable flapper shoes reigned. Pearls were also loved by Coco Chanel, who also promoted imitation jewellery, no less glamorous. In the 1950s, pearl jewellery also became a must-have for Dior's New Look style, which shaped the imaginations of many designers.
Pearls in contemporary jewellery.
Currently, pearly propositions surprise with a modern look, but there are also many accessories in the style of classic elegance. Today we wear pearls - real or artificial - from head to toe: in jewellery, handbags, in hair or as a decorative element of shoes. Especially white and cream specimens are on top, but there are also black pearls and proposals in less classic shades. Currently, jewellery is also decorated with irregular pearls. This trend is heavily used, for example in pearl earrings.

How to wear pearls?
Pearls are definitely a very versatile piece of jewellery. You can easily wear them both for everyday casual and elegant evening stylizations. The basic rule when choosing is the right proportion. Every day, it is worth putting on something delicate - smaller beads or a chain with a pearl as a pendant will be perfect, they will perfectly match jeans and a shirt or a sweater and a light dress. For evening styling, it is better to choose long stately pearl earrings, strings of pearls or a necklace with single large pearls that look like pearl balls, they will be a great addition to a classic little black dress or a fashionable elegant jumpsuit.
Types of pearl earrings
The pearl earrings can be minimalist or embellished with adornments. They can make the perfect accessory for casual wear, but you can also dress up beautiful with
pearl earrings
. Regardless of what you choose - modest or definitely more decorative, they will always beautifully emphasize the features of your face. For example in Axessorize shop you can find any shape: studs, hoops, garlands, drops- whatever you like. Large round earrings with a pearl as the dominant motif or a single asymmetrical model combining irregular pearls and gold will be effective. Ladies who love splendour and baroque ornaments can also choose richly ornamented pearl jewellery and garland-like earrings. There are also offers for fans of minimalism. Simple earrings referring to the classic single pearls on the ears will be perfect.