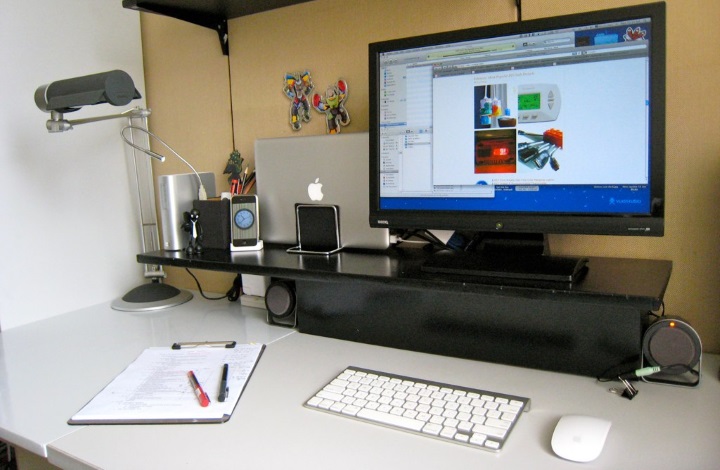 Are you finding it harder and harder to work at your desk? You might need to give your workspace a bit of a freshen up. Refreshing your workspace every so often allows you to stay organised and more efficient when working hard in the office. Here are a few things you could try.
Furniture
Maybe it's the furniture that's the problem. Is your chair still comfortable and properly supporting your back? Is your desk getting on a bit? One of the easiest ways to revive your workspace is to simply change out any old or broken chairs, desks or cabinets. A quick trip to a large furniture store such as
Super Amart
should provide a lot of ideas for new office furniture.
Inspiration
Decorating your workspace with things that inspire you is important. If your workspace is a single desk or a cubicle, you can use framed photos or pin-up posters of favourite films or bands. If you have a private office, you can keep certain books, music, or even a film poster on hand if they lift your spirits and get the creative juices flowing. Don't get too carried away though; otherwise following the next tip will be a bit tricky…
Minimise Clutter
If your desk is covered in papers, pens, old receipts, six mugs, your keys, and two notepads before you even get started on your day's work, then your workspace is – to be frank – a mess, and it is almost certainly negatively affecting your productivity. Clean it off and invest in some extra storage. Keep important files or documents either in a cabinet or digitally on the computer. Keep your keys and wallet/purse in a drawer. Get yourself a pencil tin or repurpose one of those mugs to keep stationery in.
IT Support
Maybe it's your computer equipment that needs refreshing. You're not going to get anything done on a computer that requires carbon dating to verify its age. A nice, new, fast computer can make all the difference in the world when rejuvenating your workspace. Many desktop machines now come in all-in-one varieties that eliminate the need for a traditional tower.
Window Box of Herbs
Are you lucky enough to sit near a window? You can freshen up your workspace by adding a small plant or a little box of herbs to your windowsill. They'll grow in the sunlight, you'll be able to keep a close eye on them for regular watering, and they'll provide sweet scents to help you think and concentrate.
A fresh workspace often leads to a fresh mindset. Even simply rearranging the position of your workstation can lead to an altered perspective and fresh inspiration. Take these tips as a jumping off point and come up with some creative ideas of your own to create a workspace that helps get you pumped to start work every day. What are your favourite ways to spruce up your workspace? Do you have any great tips you can share? Tell all in the comments section below!