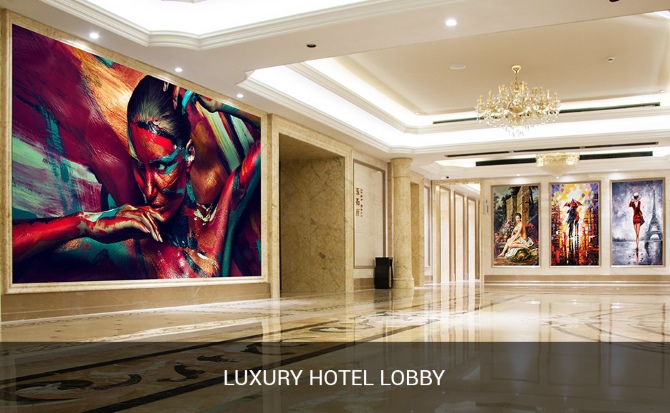 As a working professional, you spend most of your time of a day at the office. The four walls covering the desk, your laptop, and you are the primary site for your eyes.

The role of canvas prints
While to some this might surprise, but using quality canvas prints to decorate your office can indeed be of great help.
According to a report published by Forbes, 77% respondents shared that using art at the workplace makes them feel good while 74% accepted feeling motivated through art and 73% said it increases their creativity.

Well, the figures clearly indicate the significance using art on canvas prints at the office. However, it isn't just the motivation and happiness that photos/quotes on canvas can give you, they play an unmatched role in decorating your empty walls.
How to use them?
Here are some ways in which you can use quality canvas prints to decorate your office walls:

*
Motivational quotes:
These can be a great way to stay inspired all through your day. Through quotes on canvas, you can get your favorite motivational quotes all around you and stay charged throughout the day.
*
Pictures with loved ones
: While being at office comes a moment we all miss our loved ones. Canvas prints can be a great medium to keep the splendid moments with them forever with you.
*
Your achievements
: This is another way to stay motivated through canvas prints. The canvas prints under this category can be photos of your different achievements or phases of life. How about, making it in the form a photo-story narrating your success journey.
*
Photos with quote/words
: Though last in our list here, but undoubtedly one of the best canvas prints. This can be used for both motivation and happiness. You can get a picture of your loved ones with lyrics or a personal message or you can use a picture of someone who motivates you most with a quote alongside. Apart from these, you can also use this category to print a picture sharing your milestones till date and the target ahead.


Before signing off
Wait before we sign off and leave, we would like to share the customization options you have. This includes:

* Canvas section
: Here you have the option to choose from custom Canvas Prints, Wall Display, Photo Collage, Photo Mosaic, Pop art, Rolled canvas prints, panoramic canvas prints, Table top and much more.
* Decorative
: Well, this section has options with decorative touch including Metal Prints, Acrylic Prints, Photo Boards, Engrave Plaques, Peel and stick, framed prints etc. The options don't just let you decorate your office, but also helps you bring a touch of creativity.
Signing off
Canvas prints have made a deep space in society by giving a durable and more splendid shape to the digital memories. Opt one today to decorate your workplace and ensure grasping better vibes with canvas prints.