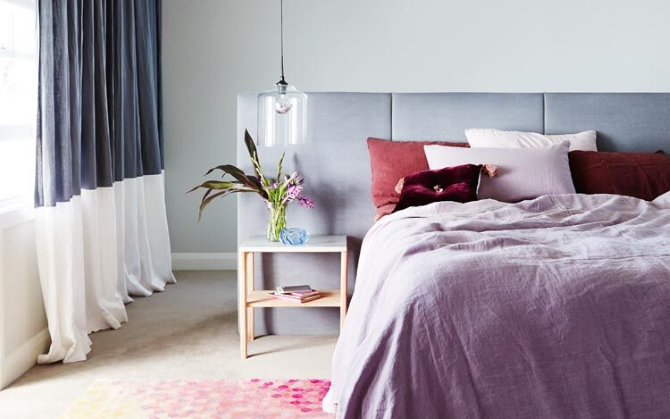 Planning a bedroom makeover of late? Or is it that you have just shifted to your dream home and now wish to color up the bedroom in the latest trends of the year? Well, the new year has ushered in with a wealth of interesting styles in home décor, including magnificent accents for the bedroom as well. So, before you start planning for a gala housewarming party, let's check out the top tips to jazz up your bedroom in 2017.
1. Bedroom color
The last year saw a generous use of blues which is replaced by dark green in 2017. It's solid, rich, warm and would be excellent when you are planning to color up your bedroom this fall.
Then, hazelnut is one of the hot favorites among the best colors for home décor in 2017. It's warm undertone does the trick for those looking for a classy neutral outlook. Another good option would be pinkish-red tint- the best one for the most romantic bedroom of a newly married couple. You can also try primrose yellow if you want a brighter appeal.
It's not just about coloring the bedroom walls. You can also incorporate these colors in different accessories in your bedroom—such as the bed linen, the cozy rug, the breezy curtains or the trendy pillows.

2. Wallpapers are back
Wallpapers are back with a bang this year to make magical additions to your beautiful bedroom. The trend is more on metallic paint works on the wallpaper to induce a dramatic element to the overall ambience.
Balance the metallic sheen with solid neutral headboard. Add on some fresh flora for an easy lighter outlook all through. Just one thing- if you are taking to the metallic prints, try to avoid bolder colors in your bedroom accessories.
However, other than the metal tone, whimsical patterns have also gained momentum for the modern bedroom wallpapers this year. If you are going for it, choose a one with a light backdrop as otherwise it would end up being clumsy.
3. Upholstered bedheads
Wooden bed frames have been dominating the scene for quite some time now but the New Year has dawned in with an elegant change in the bedhead trend. According to Australia's bedmaker BedWorks- upholstered bedheads are ruling the roost in 2017. A staple for luxe hotel beds & celeb mansions, these suave bedheads have fast caught the fancy of the classy homeowners today. So, don't be surprised if you find yourself admiring a gorgeous tufted upholstered bedhead in your sister's newly renovated bedroom.
The best thing is that you have loads of styles to choose from here. If you want a Victorian touch, there are vintage styles to go for. However, for those in the hunt of something unique, the designer upholstered bedheads would seal the deal. And yes, you also have velvet ones when you desire a true plush look.
Just make sure that the color of the bedhead is at part with the overall tone of your room. It means if you have got brighter shades for the wall or curtains, opt for a neutral light tint for your bedhead.
4. Jewel tones
This is another most important trend to follow for bedroom décor in 2017. In line with the latest fad for metallic sheen on the wallpapers, modern interior decorators are also pinning on jewel tones this year.
The overall look is largely inspired by space, clouds, cosmos, stars and of course metals. There is an unmatched drama, romanticism and enigma in jewel tones which make them stand out in the crowd.
In fact, these are great when you have to add a pinch of sparkle in your room without getting too loud. The best part about jewel tones is their light romantic feel that add on a positive aura of optimism all around.

5. Space saving furnishing
Space is a constraint in most of the homes today. So, no matter how much you love the large L-shaped sofa, it's better you enjoy it in the showroom only- especially when you have got space restrictions in your new apartment.
The stress is more on space-saving furniture that will help you to make the maximum use of your floor space. So instead of getting the sofa, place your bets on a futon. Apart from being a nice seating space, it can also double up as a cool bed when you have guests over.

6. Jungalow styling
This is again one of the coolest bedroom trends to try in 2017. Vases with cut flowers have long been a favorite for bedrooms but this year speaks of something more natural. The vote is on potted indoor plants, retro-style ferns and flowering orchids. Pair them up with aromatic candles to create the best romantic ambience around.
So, buck up mate- lots of work ahead before your housewarming feast.