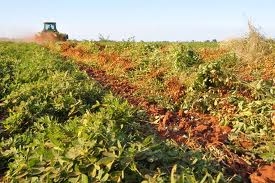 Brisbane 13 September 2013. Ensuring your crops turn a profit

Peanut, pulse and cereal growers in the Kingaroy region have an excellent opportunity to take part in a free half-day workshop on Wednesday 18 September with the Minister for Agriculture, Fisheries and Forestry John McVeigh.

Mr McVeigh said the workshop will focus on exploring pathways to more profitable crop production and will begin 1.00pm at J.Bjelke-Petersen Research Station on Goodger Road, Kingaroy.

"The aim of the workshop is to provide local Burnett growers with the key tools, tips and technologies to assist them with production and increase the profitability of their crops," Mr McVeigh said.

"Highlights will include expert snapshots of strategies and developments that optimise genetics and crop management to combat challenges from pests, diseases and the environment."

Member for Nanango Deb Frecklington encouraged local growers to attend the workshop.

"While the emphasis of the day will be on peanuts, there will also be information on pulses and cereals, as well as farm restructuring and succession planning."

Topics to be covered include:

economics of crop production in the Burnett
genetics, breeding and varieties
environmental challenges
management systems
value-adding towards new and novel products
cutting-edge pulse research being undertaken at QUT
seasonal forecasts for the coming summer

To make the most of this opportunity to join with Mr McVeigh, hear from crop experts and discover key information you need for a profitable future in cropping, RSVP to the Research Station on 4160 0700.

The field day is free to attend, with afternoon tea provided.