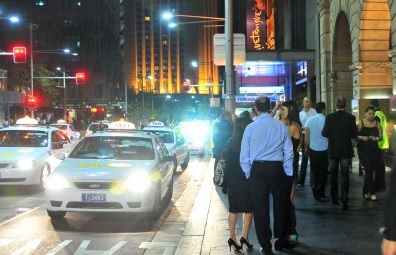 Sydney Film Festival, 5-16 June 2013, announces new film in 2013 program: Behind the Candelabra
Sydney Film Festival announces a new film in the 2013 program, Behind the Candelabra by Steven Soderbergh, to be screened on Tuesday 11 June at 9:45pm at Event Cinemas George Street (EV4) and Friday 14 June at 8:00pm Event Cinemas George Street (EV9).
Direct from its premiere In Competition at Cannes, Sydney Film Festival brings you a special screening of one of the most talked-about films of the year: Behind the Candelabra. With the help of a high-powered cast, Hollywood maverick Steven Soderbergh brings a tempestuous chapter in the life of one of the 20th century's most famous superstars to the screen. Virtuoso pianist and flamboyant star of stage and television, Liberace (Michael Douglas) embraced a lifestyle of excess. In 1977, young stranger Scott Thorson (Matt Damon) walked into his dressing room at the Las Vegas Hilton and, despite their differences in age and background, the two embarked on a secretive five-year love affair. Behind the Candelabra is a stylish and highly entertaining look at their relationship from its beginnings to their bitter and public breakup. The Guardian's Peter Bradshaw calls the film "mesmeric, riskily incorrect, outrageously watchable and simply outrageous." The phenomenal supporting cast includes Dan Ackroyd, Scott Bakula, Rob Lowe, Tom Papa, Paul Reiser and Debbie Reynolds.
Sydney Film Festival celebrates its 60th anniversary this 5-16 June, bringing a packed program of screenings and special events to even more venues across Sydney. For tickets and full up-to-date program information please visit www.sff.org.au.
ABOUT SYDNEY FILM FESTIVAL
Sydney Film Festival screens feature films, documentaries, short films and animations across the city at the State Theatre, Event Cinemas George Street, Dendy Opera Quays, the Art Gallery of NSW and the Hayden Orpheum Picture Palace Cremorne. The Festival is a major event on the New South Wales cultural calendar and is one of the world's longest-running film festivals. For more information visit www.sff.org.au

Sydney Film Festival also presents 12 films that vie for the 'Official Competition'; a highly respected international honour that awards a $60,000.00 cash prize based on the decision of a jury of international and Australian filmmakers and industry professionals. Previous Sydney Film Festival Official Competition winners include: Alps (2012); A Separation (2011) – which went on to win an Academy Award®; Heartbeats (2010); Bronson (2009); and Hunger (2008).
The 60th Sydney Film Festival is supported by the NSW Government through Screen NSW, the Federal Government through Screen Australia, and the City of Sydney. The Festival's Strategic partner is the NSW Government through Destination NSW.
What: Sydney Film Festival
When: 5-16 June, 2013
Tickets & Info: 1300 733 733 www.sff.org.au